Harper in lineup after 'nice chat' with Johnson
Harper in lineup after 'nice chat' with Johnson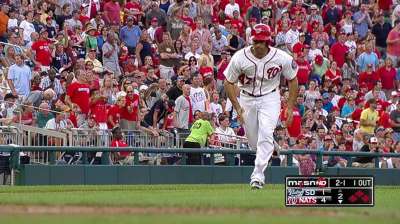 WASHINGTON -- Nationals manager Davey Johnson noticed a change in Bryce Harper's body language on Friday. Harper was 1-for-19 at the plate since coming off the disabled list on Monday, so Johnson told reporters that he likely would rest the 20-year-old for a few games.
Harper heard the news and sent Johnson a text message: "Play me or trade me."
Though the Nationals' skipper laughed at the text and didn't respond until Saturday morning, the message was loud and clear. The two had a "nice chat" and Johnson kept Harper in the lineup for Saturday's game against the Padres.
"Since trading him is out of the question, I guess I'm going to play him," Johnson said. "I said, 'Come in and see me.' It was a good conversation and he's in the lineup."
Harper hit a solo home run in his first at-bat on Monday after missing 31 games with left knee bursitis. But in his next 18 at-bats, he went hitless with three walks and seven strikeouts. He also dropped two fly balls.
Johnson watched Harper's batting average drop to .260 from .286 and thought that he was "grinding too hard" and needed a break. Harper, it seems, had other ideas.
"[We] had a nice chat," Johnson said, "and as far as I'm concerned, he's good to go."
Tom Schad is an associate reporter for MLB.com. Follow him on Twitter @Tom_Schad. This story was not subject to the approval of Major League Baseball or its clubs.