Detwiler headed to disabled list due to back issue
Detwiler headed to disabled list due to back issue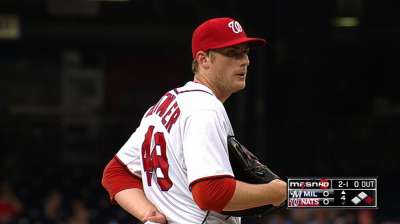 WASHINGTON -- Left-hander Ross Detwiler is headed back to the 15-day disabled list after he felt discomfort in his back during a bullpen session on Saturday, according to Nationals manager Davey Johnson.
Detwiler missed nearly a month earlier this season with a strained oblique before returning to the rotation on June 13. He has given up 18 earned runs in 25 2/3 innings since then, including two over six innings in his last start on Wednesday.
"He's a tough customer," Johnson said, "but he understood the value of getting by this thing. He got a whole lot of treatment today and so hopefully we can get by; he'll be good coming back after the break."
The left-hander took an extra day off before feeling some discomfort in his back after a bullpen session on Saturday. Pitching coach Steve McCatty watched him struggle and knew he wasn't 100 percent.
"He didn't look the same in his last start, either," Johnson said. "Hopefully if he has to miss a couple starts, he can get some more time off with the [All-Star] break. We just want him back 100 percent."
The Nationals have some flexibility with their rotation, as starter Dan Haren is eligible to come off the disabled list on Monday. Haren has missed his last two starts with right shoulder inflammation, but he threw a bullpen session on Saturday and felt fine. He could return to the mound on either Monday or Tuesday. Haren's replacement, rookie Taylor Jordan, has a 2.70 ERA in his first two starts above the Double-A level.
Johnson didn't know when the Nationals will formally announce Detwiler's return to the disabled list.
"Yeah, there's no sense doing anything," he said. "He may have a miraculous recovery, who knows? But I think everybody -- [the] doctors and Det and all of us -- feel like [the DL] is the best way to go."
Tom Schad is an associate reporter for MLB.com. Follow him on Twitter @Tom_Schad. This story was not subject to the approval of Major League Baseball or its clubs.