Desmond has mates' support in Final Vote push
Desmond has mates' support in Final Vote push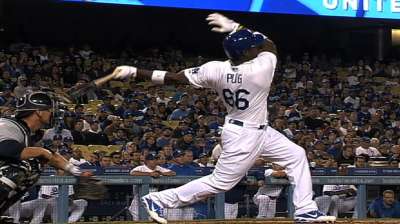 WASHINGTON -- Nationals outfielder Bryce Harper already started his campaign to have teammate Ian Desmond join him for the 2013 All-Star Game. Desmond is a National League Final Vote candidate and, on Saturday night, Harper went to his Twitter account and said the following : "We need 2 get @IanDesmond20 to the @AllStarGame! One of the Best SS in the game right now! Great ball player and an even better person! #ASG."
"He is one of the best shortstops in the league right now," Harper said Sunday. "I truly believe that. He is a great person. I think having him in our lineup helps out. He truly deserves to be there.
"He is an unbelievable person in this clubhouse, on the field and off the field. He can swing it -- power, average. He can pick it with the best of them. He is exciting to watch."
Desmond, 27, entered play Sunday leading the Nationals in home runs and RBIs. It helped that he had a hot month of June, in which he drove in 28 runs. Desmond is looking to be named to his second All-Star team. Last year, he was named to the NL All-Star squad, but didn't play because of a left oblique injury.
It seems like yesterday when Desmond received a lot of criticism for making a lot of errors at shortstop and striking out too much. But Desmond decided that he was going to change his approach toward the game before the 2012 season. A conversation with his wife, Chelsey, convinced Desmond to turn to the Lord.
"Ever since I changed my faith in God, my career has been taking off," Desmond said. "I put so much pressure on myself to do it by myself for the first couple of years, and even in the Minor Leagues. I thought I didn't need any help from anybody else. I can do it on my own. Then the weight of it all started overwhelming me. I put my faith in God in my off-the-field life and on-the-field life.
"There is enough to worry about today. … I just take it one day at a time. Things have really transformed for me. I'm finally letting my ability play out instead of trying to force things. That's translated into less errors and more free and easy swings on the field. It really has been life changing. That's the only way I can put it."
It also helped that manager Davey Johnson gave him a vote of confidence, telling Desmond that he was going to be his shortstop no matter what happens. For Desmond, it was like the team was giving him a five-year contract. Johnson has often compared Desmond to Hall of Famer Barry Larkin.
"Words are one thing, actions are another. Davey ran me out there every single day until I said, 'Hey, I need a day off,' " Desmond said. "That's what you want. You want to come to the ballpark , you know you are going to be in the lineup, you know where you are going to be hitting, you know you are going to be a crucial part of the game. And Davey gave that to me."
Desmond is also a team leader and is not afraid to speak his mind, according to teammate Dan Haren.
"He has really stepped up, especially with the ups and downs on how the season has gone," said Haren. "He has been leading vocally in the clubhouse and, obviously, on the field. He always likes to come out to the mound and slows things down for the starting pitcher. He can sense when something is going awry, if the pitcher needs a minute. He will run out and say something, whether it's about baseball or something else to slow the game down. The game can get moving fast for a starting pitcher. I think he realizes that and wants to slow it down."
Now in its 12th year, the 2013 All-Star Game Final Vote sponsored by freecreditscore.com gives baseball fans around the world the opportunity to select the final player on each All-Star team. Balloting began immediately following Saturday's Major League All-Star Selection Show presented by Taco Bell and ends Thursday at 4 p.m. ET. The winners will be announced on MLB.com shortly thereafter.
There will be an extra treat for fans who participate in the Final Vote online. If you are not a current MLB.TV subscriber (MLB.TV or MLB.TV Premium), you are eligible to receive a 14-day free trial of MLB.TV from July 12-26. If you are a current MLB.TV subscriber (MLB.TV or MLB.TV Premium), you will receive a 15-percent discount to the MLB.com Shop. MLB.com will send an email on July 12 to all Final Vote voters with instructions on how to redeem the applicable offer.
Mobile voting in the U.S. and Canada is open to everyone. In the U.S., to receive the 2013 All-Star Game Final Vote sponsored by freecreditscore.com mobile ballot, text the word "VOTE" to 89269. To vote for Desmond, simply text message N1 to 89269. In Canada, fans should text N1 to 101010. Standard message and data rates may apply. To vote for another player via text message, use the codes below.
NATIONAL LEAGUE
N1 - Ian Desmond, Washington
N2 - Freddie Freeman, Atlanta
N3 - Adrian Gonzalez, Los Angeles
N4 - Hunter Pence, San Francisco
N5 - Yasiel Puig, Los Angeles
AMERICAN LEAGUE
A1 - Joaquin Benoit, Detroit
A2 - Steve Delabar, Toronto
A3 - David Robertson, New York Yankees
A4 - Tanner Scheppers, Texas
A5 - Koji Uehara, Boston
For the second consecutive year, the 2013 All-Star Game MLB.com Final Vote Sponsored by freecreditscore.com (#FinalVote) will include a social balloting element as Twitter support from the candidates' fans over the last six hours of balloting will count toward their final vote totals. From 10 a.m. to 4 p.m. ET on Thursday, any tweet that includes a designated player hashtag will be tabulated as part of the overall vote total used to determine the American League and National League winners. Fans may follow @MLB on the popular social networking service for the latest standings updates in advance of the balloting deadline.
Bill Ladson is a reporter for MLB.com and writes an MLBlog, All Nats All the time. He also could be found on Twitter @WashingNats. Tom Schad is an associate reporter for MLB.com Follow him on Twitter @Tom_Schad. This story was not subject to the approval of Major League Baseball or its clubs.