Zimmerman, Johnson offer takes on Braun suspension
Zimmerman, Johnson offer takes on Braun suspension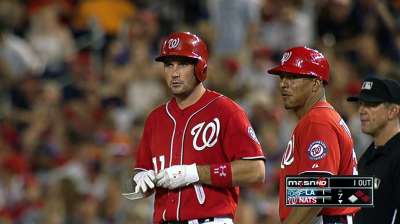 WASHINGTON -- Nationals third baseman Ryan Zimmerman and Brewers outfielder Ryan Braun were picked back-to-back in the 2005 First-Year Player Draft.
Zimmerman, the fourth overall pick, and Braun, the fifth pick, have gone on to become the faces of their respective franchises. They've appeared in All-Star games together and won Silver Slugger Awards in the same year. So when asked about Braun's decision to accept a suspension through the remainder of the 2013 season for violations of Major League Baseball's joint drug prevention and treatment program, Zimmerman had plenty to say.
"I think everyone as a whole is happy now that this is getting out of the game because it makes the game better," he said before Tuesday's game against the Pirates. "It takes it back to what the game used to be. Sure, you might not have guys hitting 80 home runs in a season -- well, Chris Davis might -- but I think that's the whole point of it. When somebody hits 40 home runs, that's hard to do. Before, [in] the last 10 years, 40 home runs was nothing. There were six, seven guys hitting 40 home runs every year. It's not supposed to be like that."
Zimmerman said that the news of Braun's suspension was unfortunate because "nobody likes to see bad things happen to people that they know," but that he isn't the one most affected by performance-enhancing substances.
"I think the frustration, and rightfully so, [is from] the guys that are the 24, 25th guy on the roster and in and out of the big leagues," he said. "That could drastically change their career. I think those kind of guys that have been clean and done it the right way, compared to those kind of guys that weren't, those are the guys that are frustrated."
Manager Davey Johnson also offered his take.
"I came up in that era where we didn't need any supplements because we couldn't even lift weights. Guys taking supplements to recover, that's all I knew about it," he said. "It's the rules. You abide by the rules. … I'm glad it's over with."
Zimmerman said that he is "110 percent" behind MLB's efforts to clean up the game and puzzled by already good players, like Braun, who still feel the need to take banned substances.
"It's unfortunate for the game, and most importantly I think the fans," he said. "To a certain extent, I think the fans kind of knew at some point what was going on. I think a lot of people probably knew, but it was exciting and it just kind of snowballed. But I think now the fans are realizing that pure baseball is a lot more exciting, it involves a little bit more strategy, stealing bases, doing the little things and not just waiting for guys to hit 70 home runs a year. So in the long run, I think the fans will enjoy it more."
Bill Ladson is a reporter for MLB.com and writes an MLBlog, All Nats All the time. He also could be found on Twitter @WashingNats. Tom Schad is an associate reporter for MLB.com. Follow him on Twitter @Tom_Schad. This story was not subject to the approval of Major League Baseball or its clubs.