Detwiler out a month; Jordan to fill in for now
Detwiler out a month; Jordan to fill in for now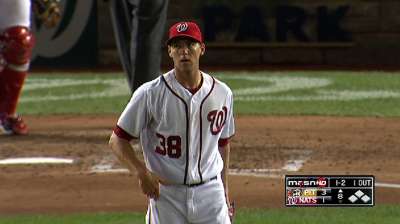 WASHINGTON -- After the Nationals lost their sixth straight game Wednesday night, manager Davey Johnson revealed that Ross Detwiler will miss a month with a disk problem in his back.
"He's got a little disk problem," Johnson said. "I think it's causing a pinch in the nerve which causes that to spasm."
Johnson said that Detwiler would receive an injection in his back and then rest. The left-hander has been on the disabled list since July 7, and he also missed 24 games earlier this season with a back strain.
Detwiler saw a back specialist in Los Angeles on Wednesday after again being bothered by the injury during an abbreviated bullpen session Saturday.
"He couldn't do a whole lot of running. He usually likes to run a lot, but he didn't do any running before he threw because he felt uncomfortable," Johnson said Tuesday. "It's a problem."
The news creates further problems at the back end of the Nationals' rotation, where rookie Taylor Jordan has filled in while Detwiler and Dan Haren have been out. Jordan has shown progress in each of his first five Major League starts, but he is also on an innings limit after undergoing Tommy John surgery in September 2011.
Johnson said on Wednesday that Jordan has 20-30 innings left before he will be shut down.
"His command is getting better, his slider, which is his third pitch, is getting a lot better, more consistent," Johnson said. "I think [he has] 20-30 more innings. ... But we really haven't had discussions on that."
Over the weekend, general manager Mike Rizzo said that Jordan, like every pitcher in the organization who has had Tommy John surgery, will be shut down early. But he declined to specify how close Jordan was to hitting that limit.
"I know what the parameters are, I know where he's at, and when he gets to that number, that area, we'll shut him down," Rizzo said.
When Jordan reaches his limit, the Nationals most likely will ask long reliever Ross Ohlendorf to be the fifth starter.
Tom Schad is an associate reporter for MLB.com. Follow him on Twitter @Tom_Schad. This story was not subject to the approval of Major League Baseball or its clubs.