Storen could be odd man out of bullpen
Storen could be odd man out of bullpen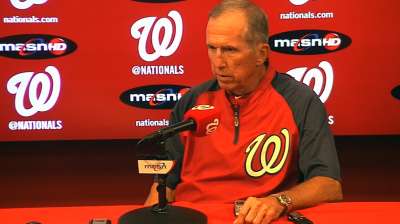 WASHINGTON -- With news that Ross Detwiler will miss a month with back problems and reliever Ryan Mattheus will rejoin the team on Friday, the Nationals will have a number of difficult decisions to make over the weekend. Manager Davey Johnson said optioning Drew Storen to the Minor Leagues could be one of them.
The 25-year-old former closer has a 5.40 ERA in 46 appearances this season. He has allowed three or more earned runs in three of his past 10 outings, including a three runs in Wednesday night's loss to the Pirates.
When asked if sending Storen to the Minors is even on the table, Johnson said he didn't think anything is off the table.
"Anything's possible," Johnson said. "I'm an optimist, and I have a lot of patience. I don't give up on people. I mean, this has been a long time. He had 43 saves [in 2011], he pitched great. Guys hit .180 on him from both sides. Now they're hitting .330 and .250. So, to be continued."
What the Nationals decide to do with Storen might depend on what they do with rookie starter Taylor Jordan, who underwent Tommy John surgery in 2011 and is 20-30 innings away from reaching his limit for the season.
Johnson said the team has a Plan A and a Plan B. The Nats could shut Jordan down now and save his remaining innings as insurance for later in the season, or they could continue to start him every fifth day until he reaches his limit. Those decisions will have to be made on Friday after the team's doubleheader against the Mets, or Sunday, after Jordan's next scheduled start.
"It's going to boil down to what's really the best thing for [Jordan] and his development," Johnson said.
The decisions will have a direct impact on Mattheus, as he could briefly return to the Minors until after Jordan's start, according to Johnson. It will also affect Storen, whom Johnson said is working through both mental and mechanical issues this season.
"I think the physical side is controlled by the mental side," Johnson said. "He had never had any adversity, and then he had the arm injury last year. Coming back after that he struggled a little bit, then got it going pretty good. This year, he's struggled a little bit dealing with the new role, it affected him and how his way of preparing was totally different. To me, it's always mental."
Andrew Simon is a reporter for MLB.com. Follow him on Twitter @HitTheCutoff. Tom Schad is an associate reporter for MLB.com. Follow him on Twitter @Tom_Schad. This story was not subject to the approval of Major League Baseball or its clubs.