Nats want Storen to make adjustments at Triple-A
Nats want Storen to make adjustments at Triple-A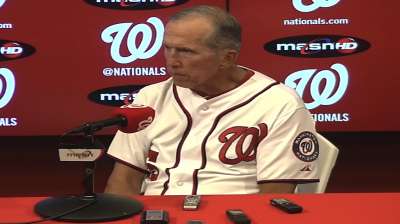 WASHINGTON -- Drew Storen saved 43 games for the Nationals in 2011 and posted a 2.37 ERA last season. The club believes he can rediscover that form, but that the Minor Leagues is the place for him to do it.
On Saturday, a day after Storen was optioned to Triple-A Syracuse, general manager Mike Rizzo, manager Davey Johnson and pitching coach Steve McCatty expanded on the reasoning for the move. They want Storen to make some mechanical adjustments -- changing his delivery in the process -- and regain his confidence.
"We felt that he was struggling, struggling with his mechanics, with his tempo with his delivery, with his arm slot," Rizzo said, "and we felt that we would do him better by letting him go down in a less stressful situation, work on his mechanics, get it fixed and get back up here and help us."
The right-hander has a 5.95 ERA over 42 1/3 innings, including a 13.03 ERA in 9 2/3 innings this month. In the first game of Friday's doubleheader against the Mets, Storen pitched with the flu and surrendered three runs. It was the fifth time he had given up at least that many in an appearance since June 11.
Rizzo, who made the decision to demote Storen before Friday's games, said Storen took the news "hard" but that the two had a long and productive conversation on Saturday.
"I explained our rationale for it and that he's a huge part of this organization and is going to be for a long time, and we just need to get him right," Rizzo said. "It's very difficult, especially for a reliever, to tweak your delivery, get your delivery back in sync, when you're in a competitive situation at the big league level, trying to win games."
Rizzo believes Storen will benefit from time with pitching coordinator Spin Williams and Syracuse pitching coach Greg Booker, whom he has worked with before.
One major task they will face is getting Storen back to his original delivery. Before the 2011 season, Storen dropped a traditional leg kick from his delivery, instead going to a slide step where he stiffens his front leg outward and brings it back, effectively pointing his front hip toward home before coming to the plate.
But McCatty said he always preferred the leg kick delivery, which makes Storen quicker to the plate, and believes a "more athletic" style would help Storen prevent his front shoulder from opening up and give him a more consistent release.
"He had 43 saves doing it that way," McCatty said. "But right now, he's flying off his arm slot, release point is not the same, and so everything gets affected. It's a snowball effect. So as of right now, I think he's going to go back to the original leg lift, doing the things you have to do to hold runners on and also work on getting that arm slot back, getting that release point back, getting that confidence back."
Basestealers are 4-for-4 against Storen this year and 13-for-13 over the past three years. McCatty wants to get his time to the plate down from about 1.6 seconds to 1.3 or 1.35.
"You're always better when you're quicker," McCatty said. "It might not feel right, but your stuff's usually better when you're quicker to the plate."
There also is the mental side of the issue, something that came to the forefront after Friday's games, when Storen's friend and bullpen-mate Tyler Clippard criticized the organization for signing free-agent closer Rafael Soriano. Clippard said that sent the wrong message to Storen, who blew Game 5 of last year's National League Division Series against the Cardinals.
Rizzo defended that acquisition and downplayed the idea that the acquisition might have affected Storen mentally. McCatty, the the other hand, said that, "A lot of it is mental, confidence-wise."
Johnson believes Storen struggled to adjust to the uncertainty of his new role, coming in for the seventh or eighth inning instead of the ninth.
"I know that I've got guys that are thinking with me when they come out there and throw the inning before with the outfielders, and very seldom did I see that with Drew coming out and throwing," Johnson said. "So if mentally he doesn't think that's going to be his spot ... then to me it's hard for him to come in really prepared to pitch."
If Storen can make the necessary adjustments, the Nationals feel he can be back contributing before long.
"We've all been sent down," McCatty said, "and you either go down with the attitude that you're mad and take your time doing it and be down there longer, or go down there with the mindset that I'm going to get this conquered as quick as I can and get back to the big leagues. How he goes about his business is up to him."
Tom Schad is an associate reporter for MLB.com. Andrew Simon is a reporter for MLB.com. Follow him on Twitter @HitTheCutoff. This story was not subject to the approval of Major League Baseball or its clubs.