Detwiler runs, but no baseball activities yet
Detwiler runs, but no baseball activities yet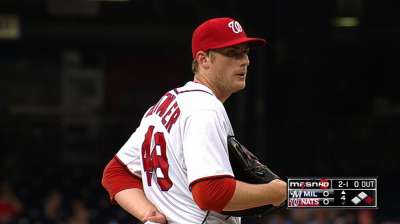 WASHINGTON -- Nationals starter Ross Detwiler will not resume baseball activities for at least another week, but he was sprinting in the outfield at Nationals Park before Tuesday's game. General manager Mike Rizzo still hopes that the left-hander will return to the Nats' rotation this season.
"He's progressing well," Rizzo said. "Now he can ramp up a throwing program. It's a routine that we use whenever a pitcher gets shut down for that long."
Detwiler has been on the disabled list since July 7 with a herniated disc in his back. Doctors prescribed a month of rest, which has now passed, as well as anti-inflammatory medicine. Manager Davey Johnson said that he wanted to see how Detwiler's back responded to the running before proceeding.
Johnson also said that Ross Ohlendorf threw a side bullpen session on Tuesday and will make a second Minor League rehab start on either Thursday or Friday. Ohlendorf pitched three innings at Triple-Syracuse on Saturday, but Johnson said the right-hander would need one more rehab start before returning to the Nationals.
Ohlendorf will throw between 50 and 60 pitches in his upcoming appearance, Johnson said. Barring any setbacks, the hurler will likely replace Taylor Jordan, who will soon hit his team-imposed innings limit, as the Nationals' fifth starter.
Tom Schad is an associate reporter for MLB.com. This story was not subject to the approval of Major League Baseball or its clubs.