Strasburg shares advice for teammate Jordan
Strasburg shares advice for teammate Jordan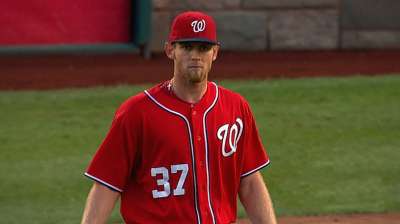 WASHINGTON -- Nationals right-hander Taylor Jordan has about three more starts before he is shut down for the season because of the Tommy John surgery he had in 2011.
Teammate Stephen Strasburg knows what it's like to be shut down for the season. On Sept. 8, 2012, manager Davey Johnson decided that Strasburg's season was over. Strasburg was on an innings limit that year because of Tommy John surgery in late 2010. He pitched 159 1/3 innings in '12 and knew before the season started he would be limited. When his season came to an end, Strasburg took the news hard and thought he had one more start. What advice would he give Jordan?
"I would say treat the next start like it's just another one. Try not to think about it as much, knowing that he is going to think about it a little bit and accept [it]," Strasburg said. "Just don't sit on the couch the rest of the way. Keep working hard, try to get better. ... Go into the offseason with an idea what a full season is going to feel like."
After he was shut down, Strasburg remained with the Nationals and watched them participate in the National League Division Series against the Cardinals, but he continued to work on his conditioning program and pretended that he was playing out the season.
"After I got shut down for that last month, I simulated what kind of toll it was going to take on my body for a full season from April until September," he said. "I still played catch and everything. The only difference now is, this last month, I'll be throwing off a mound, not just playing catch and all the other stuff."
A year after being shut down, Strasburg is having a solid season in 2013, leading Nationals starters in ERA (2.83) and strikeouts (153). He even pitched his first complete game Sunday against the Phillies. But Strasburg believes he has improvements to make on the mound. For one thing, he would like to hold runners better.
"There are a lot of ways I can improve as a pitcher. You have to stay hungry and never feel you have things figured out," Strasburg said. "There have been times in the past where the mistakes I make ... I have to learn about holding the runners better. That's a work in progress. You have the adrenaline going, the game feels like it's going slower around you, but it actually sped up. I know there are a good six to eight runs that I have given up this year that could have been avoided if I held the runner at first. With that said, I could have won some ballgames down the road. I know that's a big thing.
"Obviously, getting more comfortable throwing inside to lefties and righties -- I made a big improvement from the start of the year. It probably had to do with a mechanical issue, mechanical issue of flying open. It kind of comes back every now and then. Working with Cat [pitching coach Steve McCatty] throughout the season, I've been able to identify the problem. The reason it does happen when it does, I'm able to make the adjustment faster."
With Strasburg and Jordan Zimmermann having solid careers in the big leagues after elbow reconstruction, Strasburg was asked if shutting him down has worked out.
"Only time will tell," he said. "[Zimmermann] is obviously ahead of me in the recovery and getting to throwing 200 innings. We'll see where we are at 10 years down the road. We'll see if we are successful enough. We still have a long way to go."
Bill Ladson is a reporter for MLB.com and writes an MLBlog, All Nats All the Time. He also can be found on Twitter @WashingNats. Tom Schad is an associate reporter for MLB.com. This story was not subject to the approval of Major League Baseball or its clubs.