DeJesus reportedly claimed by Tampa Bay
DeJesus reportedly claimed by Tampa Bay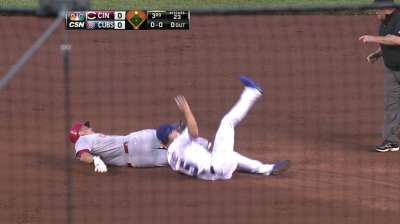 CHICAGO -- ESPNChicago.com reported that outfielder David DeJesus -- whom the Nationals acquired in a waiver trade with the Cubs on Monday and was placed on revocable waivers by Washington the same day -- has been claimed by Tampa Bay.
The Nationals could pull DeJesus back, accept the claim by the Rays -- in which case the Rays would assume just over $1 million that remains of his 2013 salary plus a $6.5 million club option or $1.5 million buyout for 2014 -- or negotiate a trade with Tampa Bay.
The deadline for one of those actions to be completed is Friday at 1 p.m. ET, as teams have 48 hours to finish a deal after a claim is put in.
Nationals manager Davey Johnson downplayed the significance of DeJesus being claimed, saying it's a normal process at this time of the season.
"After you pass the Trade Deadline, clubs are always putting guys on waivers," Johnson said. "It's another way of evaluating the talent you have. If somebody claims him and they offer you somebody that you think fits in the future plans, you might accept the deal.
"But it's a normal practice. … You'd be surprised at how many guys go on waivers every day that you don't hear about."
DeJesus struck out in his only at-bat in Thursday's 5-4 win over the Cubs in 13 innings.
Manny Randhawa is an associate reporter for MLB.com. This story was not subject to the approval of Major League Baseball or its clubs.