Solanos enjoying another family reunion
Solanos enjoying another family reunion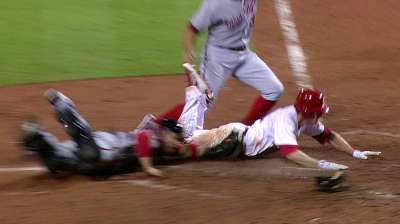 MIAMI -- Last May's Marlins-Nationals series was a Solano family affair, as Washington's Jhonatan and Miami's Donovan met on the same big league diamond.
Donovan had become the 12th Colombian to reach the Majors, while his older brother soon followed on May 29 in Miami.
Jhonatan said the pair talks every other day about each other's games and life in baseball. Their parents, who made the trip from Colombia last year, have been in attendance for the weekend series.
"It's an unbelievable feeling playing versus your brother in the big leagues." Jhonatan said. "We're living the dream right now."
Recalled Aug. 23 from Triple-A Syracuse when Kurt Suzuki was dealt to the A's, Jhonatan hopes to make the most of his return.
The 28-year-old helped secure Wednesday's 3-2 win for the Nationals by blocking a tough pitch and tagging out Chase Utley, who tried to score. He is batting .189 with two RBIs over 40 plate appearances and 19 games.
"Getting back here is awesome," Jhonatan said. "I waited for the opportunity and now I'm here enjoying the time with my teammates. I feel part of the team right now. It's exciting, and I'm here -- ready to help the team win."
Jhonatan entered Saturday's game in the seventh inning as a defensive substitution. He flied out to right in the eighth. Entering Sunday's finale, brother Donovan has gone 2-for-8 with a run as Miami's starting second baseman.
Christina De Nicola is a contributor to MLB.com. This story was not subject to the approval of Major League Baseball or its clubs.