Mets broadcaster Darling a big advocate of Davey
Mets broadcaster Darling a big advocate of Davey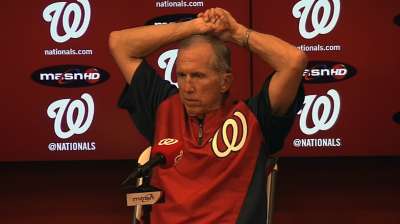 NEW YORK -- Talk to Mets broadcaster Ron Darling and he believes Nationals manager Davey Johnson has the credentials to be inducted into the National Baseball Hall of Fame. Darling points out that Johnson took four out of five teams he managed to the postseason.
"I know you are not supposed to put the playing career combined with the manager's career, [but I do]," Darling said. "He hit 43 home runs [in one season] as a second baseman, won three Gold Gloves, appeared on four All-Star teams, won two world championships as a player, one as a manager.
"And if you look everywhere he went as a manager, he was a winner. Putting them together, which I know some people don't believe in, but I do. He is absolutely a Hall of Famer."
Darling was with the Mets when Johnson guided them to the World Series title in 1986. Darling was not surprised that Johnson was successful in the Mets' organization from 1984 to 1990.
"He put in the work," Darling said. "He was a roving instructor, he was a manager in Triple-A. So he knew all the talent that the Mets had. He knew the talent that was closest to the big leagues. I think his strength to me was that he had a great judge of talent -- knew who to play, how to pick a bench."
It's hard for Darling to believe that Johnson is going to retire after the 2013 season. Darling believes Johnson has a lot left in the tank to manage a baseball team.
"The thing I'm sad about is I was hoping he would go out on a [high note]," Darling said. "Listen, there is plenty of season left. We've seen plenty of things happen. So this is assuming the Nationals don't get in. If it ends where you don't get in, I would be sad, because I wanted him to have his chance in the postseason, managing against the best of the best and bringing the Nationals where they belong in the postseason. That's the sad thing."
Bill Ladson is a reporter for MLB.com and writes an MLBlog, All Nats All the time. He also could be found on Twitter @WashinNats. This story was not subject to the approval of Major League Baseball or its clubs.