Span's streak hits 24 with sixth-inning single
Span's streak hits 24 with sixth-inning single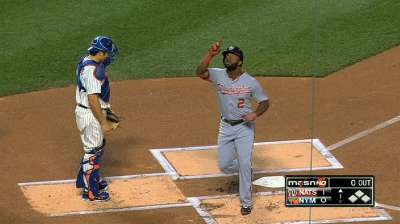 WASHINGTON -- With a flare to left field in the sixth inning, Nationals center fielder Denard Span extended his career-best hitting streak to 24 games Friday night. Span owns the longest active hitting streak in the Major Leagues.
"He's been great," manager Davey Johnson said. "It's not only he's had a hitting streak, but his on-base percentage has been off the charts. He was down around, before he started, I think he was down around .300, .306, or something like that. Now, he's up over .330, I think, which is important, him getting on, setting the table."
Span's on-base percentage following Friday's 6-1 win over the Phillies is .329.
After his first three at-bats, Span's streak looked to be in danger of ending. He hit a soft ground ball to the pitcher in his first appearance before popping out to the third baseman in the second. In the fifth, he hit a hard liner to third base, but was thrown out by half a step at first.
But in the sixth, Span kept the streak alive.
"We knew he'd have one more AB," Bryce Harper said, "and what an incredible opportunity for him to do that and get a knock in that situation against [Phillies reliever] Zach Miner. That's a clutch knock and showed what he can do on a daily basis. He's swinging well right now."
Before Friday, Span was hitting .385 during the hitting streak with two doubles, two triples, two homers, seven RBIs and 16 runs scored. His 24-game run is the second-longest in the Majors this season next to Colorado's Michael Cuddyer, who collected a hit in 27 straight games. Span also holds the second-longest hitting streak in Nationals' history. Ryan Zimmerman hit safely in 30 straight games in 2009.
Tom Schad is an associate reporter for MLB.com. This story was not subject to the approval of Major League Baseball or its clubs.