Span pushes hitting streak to 26 games with single
Span pushes hitting streak to 26 games with single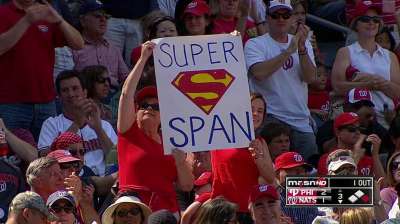 WASHINGTON -- With his single up the middle in the third inning of Sunday's game against the Phillies, Nationals center fielder Denard Span extended his career-best hitting streak to 26 games.
Span holds the second-longest hitting streak in the Major Leagues this season. With a hit in his next game, he will match the Rockies' Michael Cuddyer, who had a 27-game hitting streak earlier this season.
When asked if the hitting streak has changed his approach at the plate, Span said that it varies from day to day.
"I think it depends on how I'm feeling, how my swing's feeling," Span said. "Even though I've had this long streak, every day I haven't felt good at the plate. It just may depend on how I'm feeling before the game is starting, whether my BP or my cagework. It just varies from day to day."
Span owns the second-longest hitting streak in Nationals history. Ryan Zimmerman had a 30-game streak in 2009.
Span entered the game with a .387 average, five doubles, two triples and two home runs during the streak, which began Aug. 17.
Tom Schad is an associate reporter for MLB.com. This story was not subject to the approval of Major League Baseball or its clubs.