Span's streak ends one shy of Nats' mark
Span's streak ends one shy of Nats' mark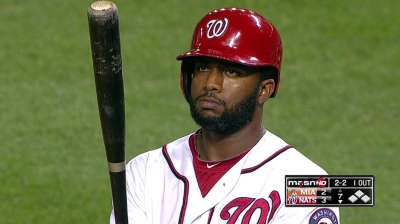 WASHINGTON -- After Denard Span's 29-game hit streak came to an end Thursday night, he returned to the clubhouse, where the entire team was waiting for him.
The Nationals gave Span high-fives, hugs and a round of applause after his 0-for-4 performance in the Nationals' 3-2 win over the Marlins ended the longest hit streak in the Major Leagues this season. Span was one hit shy of the Nationals' record held by Ryan Zimmerman, who hit in 30 straight games in 2009.
"I'll be honest, I was definitely upset," Span said. "I haven't not gotten a hit in 29 days, so that felt weird, walking back to the dugout without getting a hit. I felt sad, like I let myself down, let the fans down, they've been rooting for me.
"Once the game was over, I was able to take a deep breath and say, 'You know what? Now I can move on.' We got a win and now let's see if we can finish these last few games strong."
Span flied out to left field in his first at-bat in the first inning, then grounded out to first base in the second against Marlins starter Henderson Alvarez. The center fielder nearly reached base in the fifth inning on a grounder to shortstop Adeiny Hechavarria, but he was thrown out by a step.
Span received a standing ovation from the announced crowd of 25,945 after he struck out swinging in the seventh inning.
"I've gotten a lot of scrutiny this year, with how I started," Span said. "And for me to do what I've done, and give the fans an opportunity to see what I bring to the table, it's just been good for them to see that I am a good player, and [general manager] Mike Rizzo and the Washington Nationals brought me here for a reason. It's just an unbelievable feeling, I'll be honest."
Span batted .388 with five doubles, two triples, two homers and nine RBIs during the streak. Over that time, the Nationals went 21-8 and he raised his batting average from .258 to .282.
"I don't know what my longest hit streak is in my career, but if it's double-digits, it's 10," Jayson Werth said. "At 29, I have no idea, I can't even fathom what was going through his head. That's tough. It was heartbreaking when he broke it, but I'm definitely happy for him. Man, he's been a catalyst for this offense down the stretch here. He's been a big reason for our success."
Span's streak was the longest of his career and two better than Michael Cuddyer's, which was the second-longest in the Majors this season and lasted 27 games. Span also made it more than halfway to Joe DiMaggio's Major League record 56-game hit streak.
"Yeah, I was halfway," Span said, jokingly. "I got to 28, and I thought I was doing something."
Tom Schad is an associate reporter for MLB.com. This story was not subject to the approval of Major League Baseball or its clubs.