Bench coach Knorr is ejected after plunking
Bench coach Knorr is ejected after plunking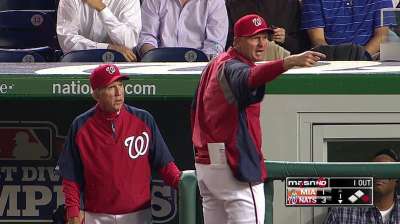 WASHINGTON -- Nationals bench coach Randy Knorr was ejected in the bottom of the first inning of Thursday night's 3-2 win over the Marlins for yelling at home-plate umpire Bill Welke after both benches received warnings when Ian Desmond was hit with a pitch.
After Bryce Harper hit a three-run homer, Marlins starter Henderson Alvarez threw three straight balls to Desmond before hitting him in the arm. Desmond flipped his bat and calmly ran to first base, and Welke issued warnings to both teams. Knorr yelled and pointed at Welke, who then tossed Knorr.
"He obviously intentionally hit him, and to me, that's an ejection," Nationals manager Davey Johnson said. "It's real obvious when you give up a home run and then you get 3-0 on a guy and then you drill him. To me, you're throwing at somebody on purpose. And I think the proper thing is to eject him. When you go on a warning, an errant pitch from one of our guys and I'm gone and the pitcher's gone. I just didn't agree with the warning, and neither did Randy."
After the inning was over, Johnson met Welke on the field to plead his case. Johnson argued that issuing warnings to both teams might lead to an automatic and unwarranted ejection of one of his pitchers if they accidentally hit a batter while pitching inside.
"I know they have instructions from MLB, anything that happens, [it's a] warning," Johnson said. "But it's not to prevent us from hitting anybody, not that we would. We're trying to win a ballgame. But when somebody intentionally drills somebody, he should go. It's that simple."
Desmond said after the game that he didn't think that Alvarez threw at him on purpose.
"No. If it was, so what? If it wasn't, so what?" Desmond said. "I'll take my base. It helps my on-base percentage."
Tom Schad is an associate reporter for MLB.com. This story was not subject to the approval of Major League Baseball or its clubs.