Strasburg ready to go after getting skipped
Strasburg ready to go after getting skipped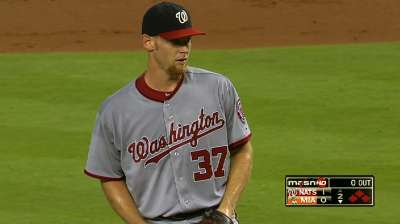 WASHINGTON -- After completing his regular pre-start routine Friday afternoon, Stephen Strasburg did not have any setbacks and is still on track to start Saturday, according to manager Davey Johnson.
Strasburg was scratched from a start on Sept. 13 with tightness in his right forearm. His last scheduled start on Thursday was postponed to Saturday because the tightness returned while the right-hander was playing catch Wednesday afternoon.
Johnson said Strasburg is not more injury-prone than other pitchers. His injuries are simply more scrutinized because of his 2010 Tommy John surgery and status as the team's top starter.
"I think it's who he is," Johnson said. "He's our No. 1 pitcher. Anything that goes on with No. 1 pitchers, high Draft pick, No. 1, there's just a lot of interest. Same thing with [Bryce] Harper. Anything happens to him, everybody analyzes it every which way. It's just part of it."
Strasburg did some light running and played catch on flat ground on Friday without any issue. If the tightness returns before Saturday's game, Johnson said Dan Haren has volunteered to start on short rest.
Tom Schad is an associate reporter for MLB.com. Follow him on Twitter @Tom_Schad This story was not subject to the approval of Major League Baseball or its clubs.