Cedeno makes case for next season's bullpen
Cedeno makes case for next season's bullpen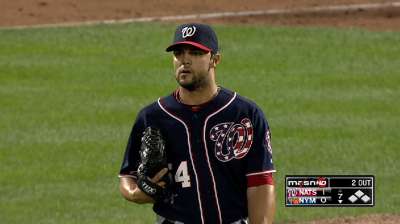 WASHINGTON -- Less than three weeks after rejoining the Nationals, Xavier Cedeno has already become manager Davey Johnson's preferred situational left-hander. Johnson said that Cedeno is making a strong case for a spot in the bullpen next season.
"For that role, he has shown the most aptitude for it and the best stuff," Johnson said. "He knows what he wants to do and he reads hitters pretty good."
Cedeno has been a frequent traveler between Washington and Triple-A Syracuse this season. Between four stints with the Nationals, the lefty recorded a 1.31 ERA in 39 games with the Chiefs.
Cedeno was claimed off waivers from Houston in April, but Johnson said that he didn't know much about the left-hander until he first joined the team in June. The 26-year-old throws a sinking fastball to right-handed hitters and a sweeping slider to left-handers. According to Johnson, Cedeno has drawn praise from Triple-A manager Tony Beasley, who also managed left-handers Fernando Abad and Ian Krol this season.
"[Cedeno] was his main left-hander," Johnson said. "[Beasley]'s had them all, and he had him highest up."
Andrew Simon is a reporter for MLB.com. Tom Schad is an associate reporter for MLB.com. This story was not subject to the approval of Major League Baseball or its clubs.