Rendon showing improvements at second base
Rendon showing improvements at second base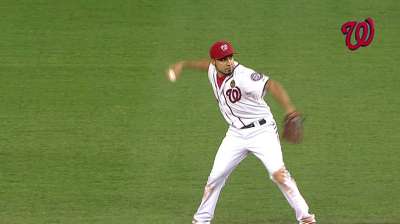 WASHINGTON -- Nationals pitcher Jordan Zimmermann had a no-hitter going against the Marlins on Friday night when Ed Lucas led off the fifth inning by smashing a one-hopper toward the middle. Second baseman Anthony Rendon moved smoothly to his right, snaring the ball backhanded as he slid on his knees, then popped up and made a strong, accurate throw to first for the out.
Although Zimmermann couldn't complete the no-hitter, the play had major implications at the time. And it also might have been a sign of how well Rendon has adapted to his new position.
The 23-year-old rookie, previously a third baseman, hadn't played second since Little League until he spent eight games there in the Minors this year. He then took over for an injured and ineffective Danny Espinosa and has started 77 games at second for the Nats..
"I think he's been great," first baseman Adam LaRoche said. "As a matter of fact, you forget that he wasn't always a second baseman, which I think is a really good sign. He just looks natural over there."
Rendon has experienced his share of hiccups at second, as one might expect. He's made nine errors there for a .974 fielding percentage. Advanced defensive statistics tend to be fickle, especially in a small sample, but the various metrics available all have him as close to average. FanGraphs.com's Ultimate Zone Rating is the most optimistic, pegging Rendon's second base contributions at 2.2 runs above average.
"I wouldn't say fully comfortable, but I'm coming around," Rendon said after Friday's game. "Like I've been saying all year, day by day, trying to get better each day and trying to feel more comfortable each day."
Nationals manager Davey Johnson also rated Rendon as "a little above average," citing his footwork around the bag and his hands. Rendon still is learning about positioning, Johnson said, but his adjustment has been quicker than anticipated.
"He's got a good future," Johnson said. "He's a big leaguer at second."
When Rendon first began at second, LaRoche would have to move him a lot. Now, not so much. Their comfort level has improved as Rendon learns where to be before the play, adjusting his depth to the speed of the runner.
According to LaRoche, Rendon has a knack for coming in on bunts or softly hit grounders and is gaining an understanding of positioning himself on cutoff plays and steal attempts.
Now the biggest question is whether Rendon will stay at second or move back to third. There's a possibility the Nationals could shift Ryan Zimmerman to first and Rendon to third, and the organization still must decide what to do about Espinosa, who finished his season at Triple-A Syracuse.
"It depends on a lot of things," Johnson said. "I'm still very high on Espinosa. If he gets his thought process straight, he's an awfully talented player also. And you can never have too many good, talented players."
Andrew Simon is a reporter for MLB.com. Tom Schad is an associate reporter for MLB.com. This story was not subject to the approval of Major League Baseball or its clubs.