Mattheus has chest discomfort after 'pen session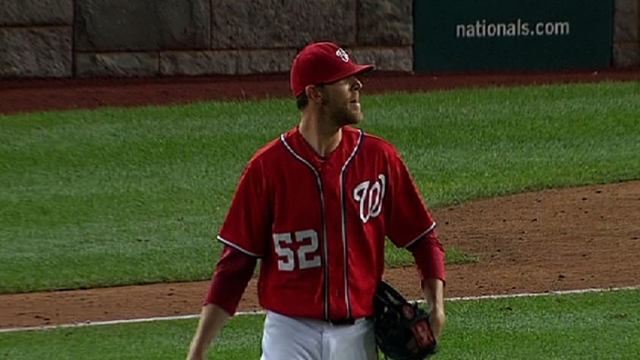 VIERA, Fla. -- Nationals relief pitcher Ryan Mattheus underwent an MRI on Monday, which revealed costochondritis, an inflammation of the cartilage that attaches the ribs to the sternum.
The club hasn't decide on a treatment plan for the right-hander, who first felt discomfort in his chest after throwing a bullpen session on Tuesday.
"The time frame is however fast it heals," Mattheus said Tuesday. "Once the pain gets out of there, they'll let me ramp up activity accordingly. There's no [prognosis]. It's just whenever the pain subsides."
While Mattheus still can throw without too much trouble, the simple act of taking a deep breath has become painful.
"That's the hardest part," he said. "Even the day after I did it, the throwing wasn't too bad. Even the running around, the jarring from my feet pounding the ground, stuff like that irritated it."
Mattheus is waiting for an opinion from team physician Dr. Wiemi Douoguih to see what kind of activities he can do and when. Any delay in his preparation is bad timing, considering that the 30-year-old is battling for one of the last spots in the Nationals' bullpen, a year after compiling a 6.37 ERA while missing time with a broken hand he suffered after punching a locker.
Andrew Simon is a reporter for MLB.com. Follow him on Twitter @AndrewSimonMLB. This story was not subject to the approval of Major League Baseball or its clubs.