Despite result, Detwiler pleased with start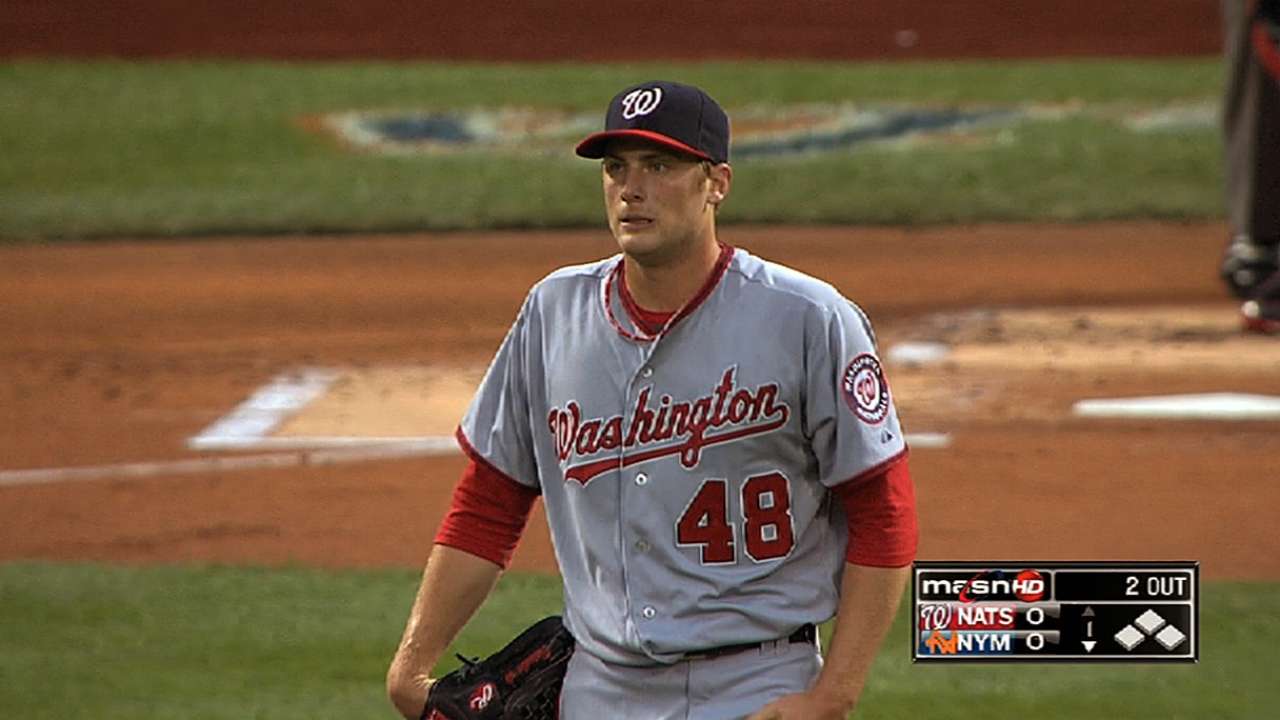 TAMPA, Fla. -- Considering the fact that Monday was the first time left-hander Ross Detwiler had faced Major League players since going on the disabled list last July, he couldn't help but feel pleased with his performance, abbreviated and rocky though it was.
Manager Matt Williams agrees.
"It didn't go the way he wanted it to, but I thought it went well despite the outcome," Williams said. "The results aren't always going to be there in the spring."
"It's been a while. I got a little excited out there," said Detwiler, who threw the first 1 1/3 innings of the previously unbeaten Nationals' 4-2 loss to the Yankees. "I was a little amped out there."
Detwiler cruised through the first inning, retiring the Yankees in order and catching Brett Gardner and Brian McCann looking at called third strikes.
The second inning, however, was another matter, as the Yanks sent six men to the plate and scored four times before Detwiler could get anyone out.
When he struck out Gardner again for the first out, with runners on first and third and four runs in, Williams waved to the bullpen for Danny Rosenbaum, ending Detwiler's efforts for the sunny afternoon.
"I lost my command a little bit in the second inning," Detwiler said.
The addition of Doug Fister during the offseason pushed Detwiler into a competition with Tanner Roark and Taylor Jordan for the fifth spot in the rotation.
Last season, Detwiler, who turns 28 on Thursday, threw his fastball about 88 percent of the time. Coaches have suggested that a cutter would work well with his delivery, even though he has struggled when he has tried to throw it in the past.
"I'm out there competing, not just working on stuff," he said. In this outing he threw one cutter and one changeup, and he isn't sure how many curveballs he used.
"I have no idea -- at least four," he said.
But according to Williams, "He mixed in nine curveballs, which was good. I don't think he gave up a hit on his curveball."
"Det's going to do what Det's going to do," pitching coach Steve McCatty said. "He knows he's got to mix up his pitches more. A lot of times, it's tough to change your way of thinking. But he's got the ability. Det does a lot of things real good. He can do it, no doubt about that."
Detwiler, who missed the final three months of the 2013 season because of a back injury, and later underwent surgery to repair a herniated disk, went 2-7 in 2013, with a 4.04 ERA in 71 1/3 innings, and he definitely has an edge on the other candidates when it comes to Major League experience.
"It factors in a lot," Williams said. "He knows the league, and he knows the hitters."
"Last year was kind of an offseason for him," McCatty said. "He hurt his back early and battled through the pain. Finally, he couldn't take it anymore."
If Detwiler doesn't win a spot in the rotation, he will likely be moved to the bullpen.
Jim Hawkins is a contributor to MLB.com. This story was not subject to the approval of Major League Baseball or its clubs.