Williams not worried about Rendon, Espinosa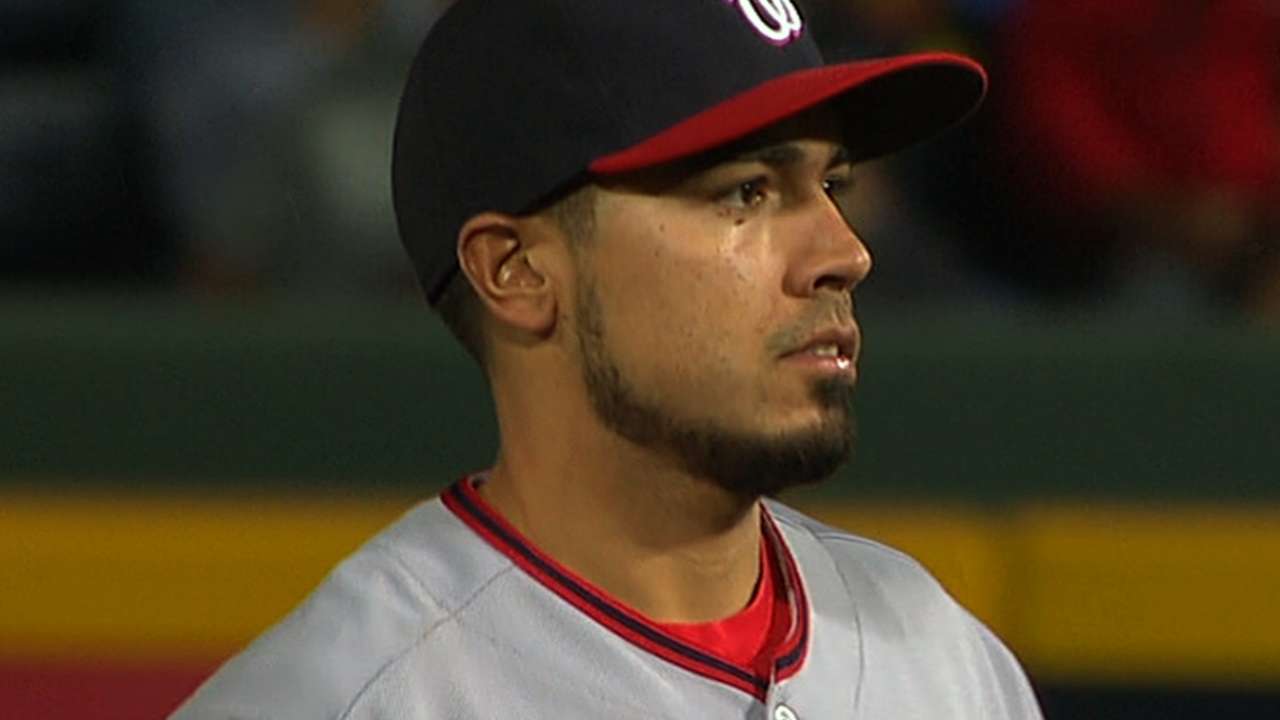 LAKE BUENA VISTA, Fla. -- Through five games this spring, second basemen Danny Espinosa and Anthony Rendon were not getting results at the plate. The duo was hitless in 17 at-bats, striking out a combined six times. The only time either reached base was on March 3, when Yankees pitcher David Robertson hit Espinosa with a pitch.
Manager Matt Williams responded by sticking Rendon in the leadoff spot and Espinosa in the two-hole on Thursday. The move paid off.
Rendon finished 2-for-3, and Espinosa reached base twice -- singling in his first at-bat and taking a 97-mph heater from Braves closer Craig Kimbrel on the toes.
Despite the early struggles of the two second basemen, there is not much concern with either.
"I feel good," Espinosa said. "I feel nice and easy. Balanced swings, I'm taking pitches balanced. I'm not lunging. I feel under control. I don't feel like I'm swinging hard."
Strikeouts have magnified Rendon's slow start. Pitchers fanned the 23-year-old six times in his first eight at-bats, including Braves starter Julio Teheran in the first inning of Thursday night's game.
But Williams is not concerned with numbers right now.
"He's been good," Williams said of Rendon. "He hit the ball really well his first few games and had a little tough one the other day, but that's OK. That happens in spring. ... He'll be fine. He's right on track, right where we want him to be."
When asked what he has focused on doing at the plate this spring, Espinosa said the word relax six times.
"In my head, just to tell myself to trust myself," Espinosa added. "Don't try to go out and get a pitch. ... Stay under control and trust it rather than trying to go out and create. That's what I'm really trying to stay focused on."
Rendon batted .265 with seven home runs, 35 RBIs and 40 runs in 98 games as a rookie in 2013. After a brief stint in the Majors in late April and early May, he was recalled from Double-A Harrisburg for good on June 4.
Espinosa batted .158 in 44 games with the Nationals last season before he was in 75 games with the Chiefs.
Joe Morgan is a contributor to MLB.com. This story was not subject to the approval of Major League Baseball or its clubs.