Jordan, Detwiler deliver solid outings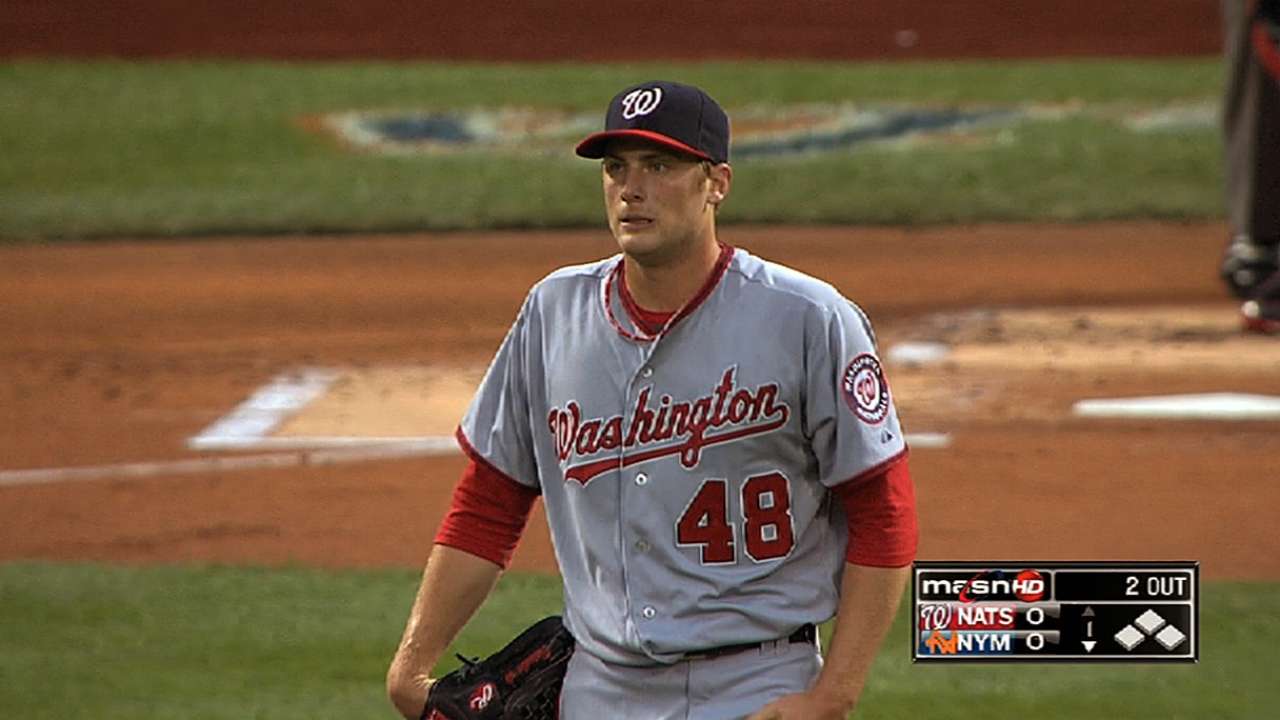 VIERA, Fla. -- Even though Taylor Jordan made his Major League debut last year, the Nationals right-hander felt so nervous in his first two Grapefruit League appearances that he could see his legs shaking on the mound. He wondered how he would fare after breaking his ankle this offseason, and his place in the team's fifth-starter battle weighed on him.
"It was just killing me," he said.
"It's not like I was focused on it, but I was thinking, 'I have to do well.'"
Jordan pitched out of the bullpen in Saturday's split-squad contest against the Braves at Space Coast Stadium, tossing three innings in relief of Ross Detwiler, another candidate for the job. This time, Jordan felt calm, and he continued his strong spring. He gave up one run on three hits, walking none and striking out six.
Jordan notched more than four whiffs only once in nine big league outings last year. He has 11 in seven innings this spring, compared with 29 in 51 1/3 innings with Washington in 2013.
"For me, it's his breaking ball command and his changeup command," manager Matt Williams said. "He knows that if he gets behind in the count, he can throw his sinker, and guys will beat it into the ground. But what he did today was throw his breaking ball for strikes, his changeup for strikes, and that's where he gets the strikeouts."
All of the strikeouts surprised Jordan, who prefers pitch-count-saving ground balls.
On the other hand, the 25-year-old said he could see at least some of his increased whiffs carrying into the regular season, due to a slider that was "hit or miss" last year but is clicking. Jordan feels an improved arm slot on the pitch has resulted in more downward movement, rather than a flat, side-to-side break.
Meanwhile, Detwiler also saw progress with his offspeed pitches during his start, which lasted two-plus innings and included 51 pitches. The left-hander gave up one run on six hits -- four of which were struck softly -- with no walks and one strikeout.
In the second inning against Andrelton Simmons, Detwiler threw back-to-back changeups -- something he said he'd never done before -- and retired him via a comebacker on the second. Detwiler threw only about four percent changeups and 8.5 percent offspeed pitches last season, according to brooksbaseball.net.
"That's something I need to do during the season," he said. "It's not translating right away, just because I'm trying to be too fine or I'm not quite there yet with rhythm. That's something everyone works on in Spring Training, and then you get to the season and hit your stride, so I'm looking forward to my next start. I think it's going to get a little better each time, and hopefully by the time the season starts, it's all there."
Andrew Simon is a reporter for MLB.com. Follow him on Twitter @AndrewSimonMLB. This story was not subject to the approval of Major League Baseball or its clubs.