Soriano, Detwiler take steps forward in latest outings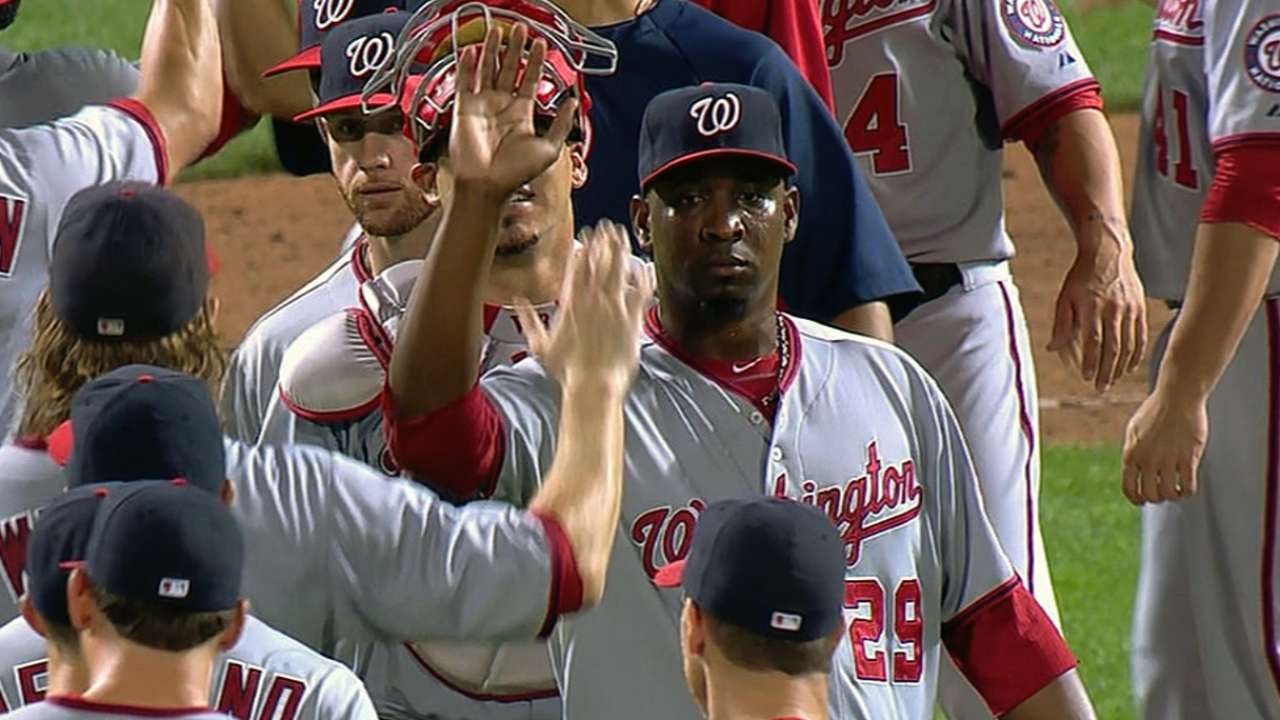 VIERA, Fla. -- Nationals pitchers Ross Detwiler and Rafael Soriano both took positive steps during Thursday afternoon's 7-5 loss to the Mets at Space Coast Stadium.
Detwiler, making his third start this spring as he battles for the No. 5 starter job, stretched his pitch count to 68 while holding New York to one run on three hits over 3 2/3 innings. More importantly, he continued working on his secondary pitches, seldom used in past seasons. Although the left-hander wasn't happy with his curveball, he felt good with his changeup.
"I think the biggest thing is [the offspeed pitches are] making the fastball better, because they just can't sit there and sit on fastball the whole time," said Detwiler, who struck out both David Wright and Curtis Granderson with fastballs. "I'm seeing it more when I'm ahead in the count. Then I can do a lot more than behind in the count. Then we're back to square one throwing a lot of fastballs because the confidence isn't there completely in the offspeed, but it's showing itself a little bit."
Detwiler also has tried to introduce a cutter this spring, although he said Thursday that his four-seam fastball simply cuts sometimes and not others. Either way, manager Matt Williams was happy with the way Detwiler was able to pitch inside to righties with the fastball/cutter.
Feeling healthy after injuries limited him to 13 games last season, Detwiler is trying not to get caught up in the fifth-starter competition.
"Whatever happens is gonna happen, and you guys [the media] can write whatever you want," he said. "I know if I go out there and throw well, and I feel good coming out of it, I'll have a good chance for whatever I'm supposed to do. And if I don't, then I don't deserve it."
As for Soriano, the Nats' closer bounced back after allowing five runs in two-thirds of an inning on Monday, his second straight rough outing to begin the spring. The righty retired the Mets in order in the sixth inning, with one strikeout, and Williams saw him showing a better fastball.
"He feels good, his arm feels good. That's what I'm concerned about," Williams said. "Today, he put it where he wanted to put it, with a little more oomph on it, and it'll get better from there, too. I'm confident, and he's confident, so today was a really good day for him, and we'll go from there."
Bill Ladson is a reporter for MLB.com and writes an MLBlog, All Nats All the time. Follow him on Twitter @WashingNats. Andrew Simon is a reporter for MLB.com. This story was not subject to the approval of Major League Baseball or its clubs.