Espinosa's hard work starting to pay off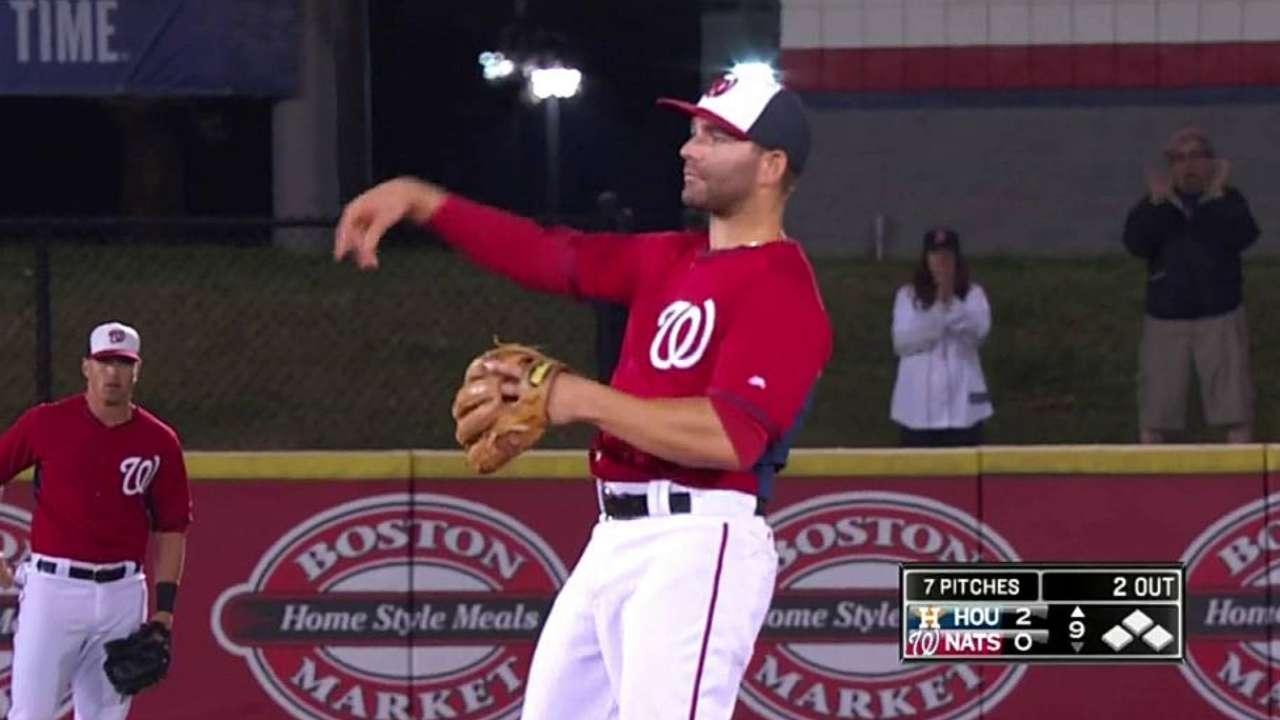 VIERA, Fla. -- All spring, Nationals manager Matt Williams and his staff had complimented Danny Espinosa's approach at the plate, even though it wasn't producing positive results on the stat sheet. On Saturday, the numbers finally matched what the coaches have been seeing.
After flying out in his first two plate appearances, Espinosa homered in his last two, including a walk-off shot off the Marlins' Chaz Roe in the ninth inning that gave the Nats a 6-5 win. Both homers came left-handed, traditionally the weaker side of the plate for the switch-hitting Espinosa.
"We can tell him all day long he's right on, he's right where he needs to be," Williams said. "But it helps when they fall in -- or over."
Espinosa is coming off a rough season that saw him play hurt, hit .158 and spend significant time at Triple-A Syracuse. He came into this spring with the opportunity to battle Anthony Rendon for playing time at second base, or at least secure a utility infield role, but was hitting .184 with two doubles and no home runs coming into Saturday.
In the seventh inning, Espinosa drove a pitch from Kevin Slowey over the wall in deep right-center field. In the ninth, Espinosa lined Roe's offering out the opposite way, near the left-field line. Williams didn't see him taking big swings either time.
"He doesn't have to," Williams said.
Said Espinosa, "Both of those I was just trying to stay short to the ball and just be on time and be short. Not swinging as hard as I can, but just short and on time and trying to barrel the ball."
As for the second-base competition, Espinosa said he doesn't know where he stands, nor is it something with which he's concerned. If circumstances dictate, Espinosa suggested he will embrace a backup role.
"I don't know what the opportunity will bring, if that's the situation," Espinosa said. "I'll prepare every day. I'll always prepare and go about my work like I've always done when I've started. I'll take my ground balls, I'll work on my swing, I'll be in the cage and do what I've always done. And if my name's called later in that game for a pinch-hit or if I get a start that day, I'll be ready to go."
Andrew Simon is a reporter for MLB.com. Follow him on Twitter @AndrewSimonMLB. This story was not subject to the approval of Major League Baseball or its clubs.