Nationals get call overturned, then score a run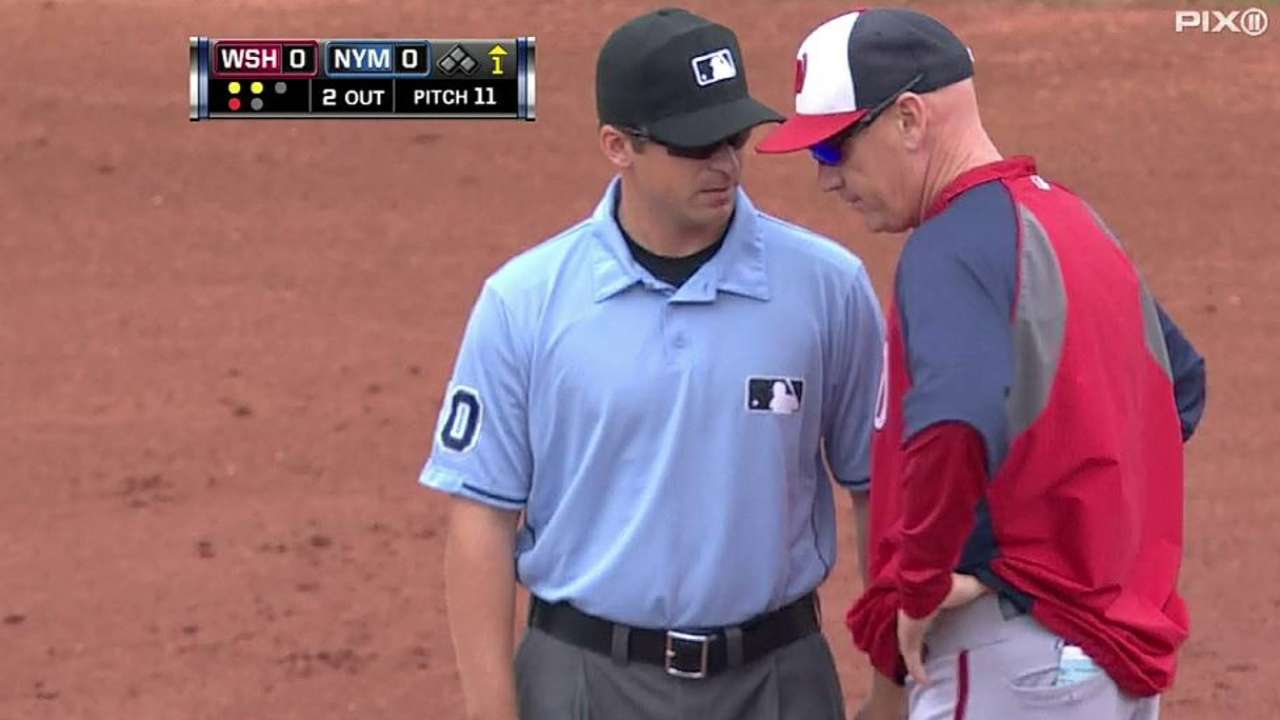 PORT ST. LUCIE, Fla. -- Nationals manager Matt Williams decided to take advantage of instant replay twice on Sunday afternoon, and he was able to get one of the calls reversed in a 3-1 loss to the Mets.
After singling with one out in the top of the first inning, Bryce Harper attempted to steal second and was thrown out by catcher Anthony Recker. However, Williams went to second-base umpire James Hoye and asked him to look at the replay.
"I went out to talk to the umpire and looked back into the dugout. [Bench coach] Randy [Knorr] gave me the yell and said, 'I thinks he is safe,'" Williams said.
The replay showed that Recker's throw beat Harper to the bag, but second baseman Daniel Murphy tagged Harper when he was already on the base. After one minute and 48 seconds, Hoye reversed the call and Harper was credited with a stolen base.
It was the first time the Nationals were able to get a call reversed because of instant replay. After he went to third on a wild pitch, Harper scored on an infield single by Ryan Zimmerman.
Williams believes that similar plays like the one involving Harper will be challenged more often than not.
"That's the hardest one because the ball clearly beat him, but what happens when the infielder dictates whether [the runner] is out or safe?" Williams said. "With the naked eye, you could make an argument either way, but understanding that he is going to pick the ball out of the dirt and come up before he [puts the glove] down, then you have a shot there."
Williams tried to get another call reversed in the ninth inning. Adrian Sanchez hit a slow roller to shortstop Ruben Tejada, who threw Sanchez out on a close play. Williams then asked the umpires to look at the play. It took the umpires 57 seconds to realize that Sanchez was indeed out.
"[Sanchez] was clearly out, but we have one [challenge] left because we had the first one right," Williams said. "We figure we use it there. You never know. [Lucas Duda] may have come off the bag even though the ball beat [Sanchez]. So we figure we use it."
Bill Ladson is a reporter for MLB.com and writes an MLBlog, All Nats All the time. He also could be found on Twitter @WashingNats. This story was not subject to the approval of Major League Baseball or its clubs.