Werth: Opening Day is 'like a holiday'
Nationals outfielder cherishes memory of first opener as a player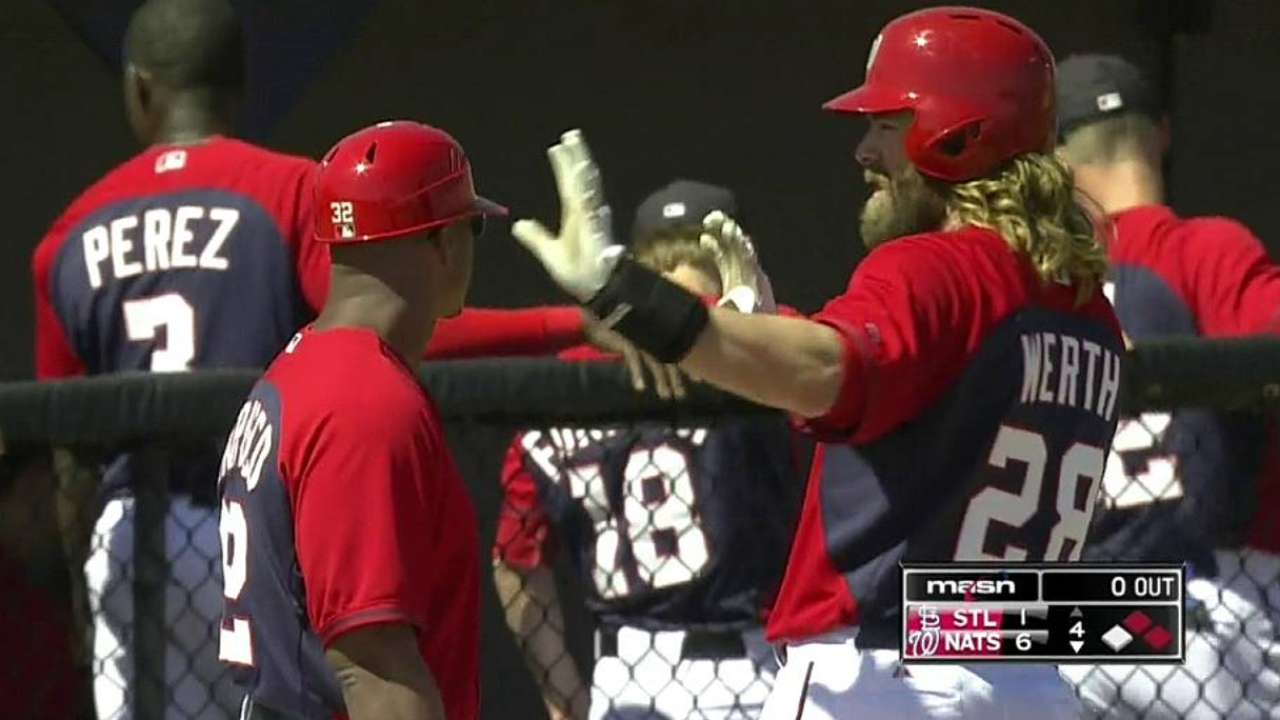 My favorite Opening Day was in Toronto in 2003. Blue Jays vs. the Yankees. I started the year on the disabled list because of a wrist injury. I wasn't on the DL long, but I was able to stay with the team. It was Roger Clemens vs. Roy Halladay at the Skydome.
If you remember, the year before, Josh Phelps was called up, and he was a DH/catcher. So Phelps hits two homers off "The Rocket." So here we are -- Opening Day -- and Phelps is hitting fifth, and we are in a packed house in the Skydome.
It's the bottom of the first inning, two outs, it's first and second, and Phelps comes to the plate. The first pitch is a 95-mph fastball right at Phelps' ribs. That was the first time Clemens got a chance to face Phelps since he hit two homers off him. That loaded the bases -- Opening Day. Clemens then threw three straight splits to strike out Eric Hinske and get out of the inning.
Even though I was on the DL, it was a dream come true to be on a Major League team. I will always remember it because of what happened, and it was my first Major League Opening Day. It was a lesson learned. It was old-school baseball at its best right there.
I know when I'm no longer involved in Opening Day as a player, it will be a sad day. It's such a happy time, a festive day. It's like a holiday for some people. It's a baseball game, and I'm working that day. It's a fun day for everybody with all the banners. I think when I don't get to do it anymore, it will mean more, it will hurt more.
I like the Nationals' team this year. It's an extension of last year's team. I loved how we finished up last year, the way we battled. I think our team is better on paper now than it was last year. We made firm decisions on who is going to be here this year. We made some nice additions. We picked up some guys that will help our team win.
We have a manager in Matt Williams who had dedicated himself to this game. He is focused on bringing a championship home to Washington, which I'm all for.
Jayson Werth is the starting right fielder for the Nationals. He has been in the big leagues since 2002. This story was not subject to the approval of Major League Baseball or its clubs.