Williams: We'll see how bullpen roles play out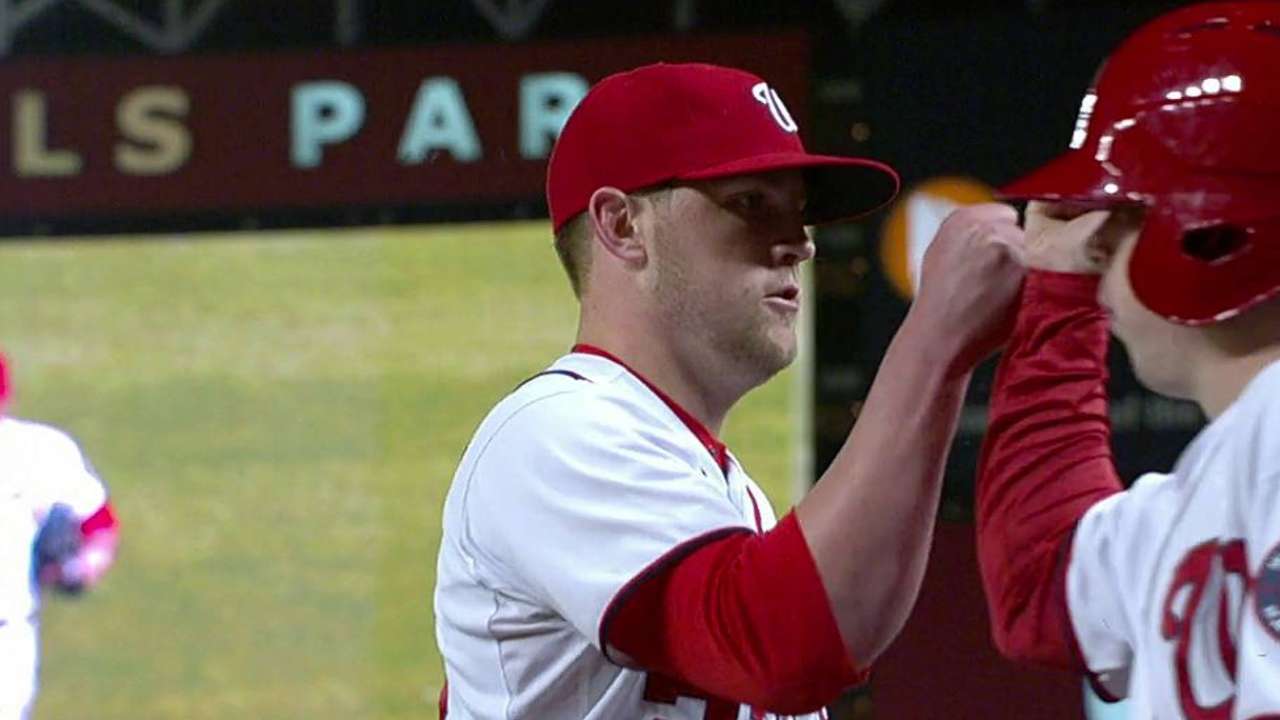 WASHINGTON -- While Nationals reliever Drew Storen went through a rough patch last season, Tyler Clippard was the steady hand in the back of the bullpen, setting up closer Rafael Soriano. So far in 2014, their fortunes have been reversed.
That dynamic was on display on Monday night against the Angels. Storen finished off the seventh inning by retiring Mike Trout with a man on base, but Clippard couldn't hold a one-run lead in the eighth. Burdened with Ian Desmond's inning-opening error, he went on to allow four unearned runs, including Raul Ibanez's go-ahead three-run double.
Clippard, with a 2.72 ERA over 337 relief appearances from 2009-13, has allowed a run in five of his 11 games this season, with 14 baserunners over 9 2/3 innings. Storen, on the other hand, has held the opposition to two baserunners and one run over 7 1/3 innings.
Given that situation, might manager Matt Williams change how he deploys his late-inning relievers?
"Really, all three of those guys, in theory, at the back of the bullpen are interchangeable, depending on workload, depending on what happens during the course of a series or during a week," Williams said. "So I expect Drew to be ready to pitch at any point. He can pitch the seventh, he can pitch the eighth, he can close if need be. He's done it before, and had success doing all three.
"Does it change roles? I think that's yet to be determined. We'll see how it all plays out. But he's capable, and he's pitched really well."
So far, Williams has shown consistency with how he's used that trio. Storen has made the bulk of his appearances in the seventh inning, Clippard in the eighth and Soriano in the ninth.
With games on the line in those late innings, any issues can put you under the microscope. Williams said Monday that Clippard has yet to find his changeup and has been inconsistent with his fastball location, and those problems have cost him.
Storen, coming off a season that saw him spend part of his summer at Triple-A Syracuse, certainly can empathize with his good friend and teammate.
"When you're a late-inning bullpen guy, it's going to be magnified quite a bit, because we're coming in with a small lead, and those are the tough ones," Storen said. "It's one of those things, it's a matter of inches, nothing drastic.
"It's human nature and it comes with competing that you want to punch harder. In reality, you've just got to trust your stuff and kind of go with it. That was part of my learning process, that trying harder in this game isn't always trying better."
Andrew Simon is a reporter for MLB.com. Follow him on Twitter @AndrewSimonMLB. This story was not subject to the approval of Major League Baseball or its clubs.