McLouth escapes serious injury after highlight catch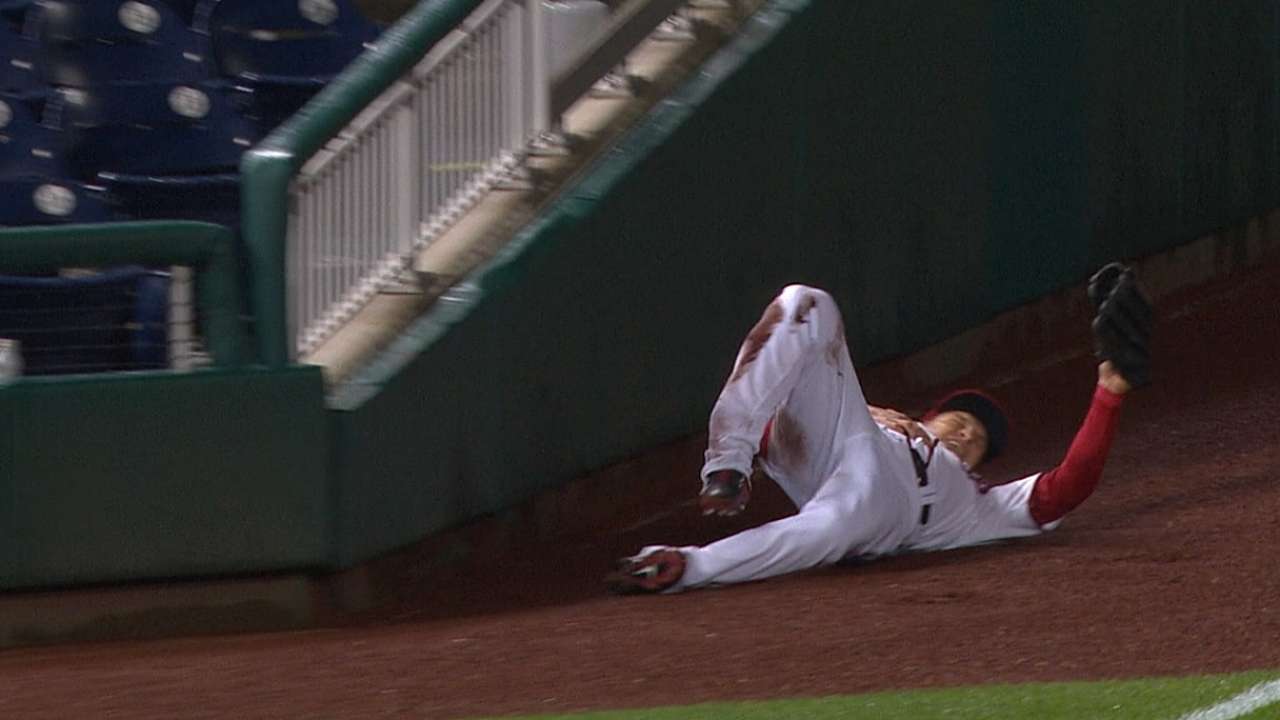 WASHINGTON -- When he arrived in the Nationals' clubhouse on Tuesday, Nate McLouth still hadn't watched the highlight of his spectacular sliding catch in Monday night's 4-0 win over the Dodgers. But the bandage on his right index finger served as a reminder of how he gave up his body to make the play in foul territory down the left-field line.
"I know it was pretty much catch, boom, wall," said McLouth, who ranked the catch as "probably one of the more dangerous ones," of his career.
Considering how the play looked, the damage could have been much worse.
With one out in the top of the eighth inning and the Nats leading 2-0, the Dodgers' Dee Gordon sliced a ball down the line. McLouth gave chase toward the point where the low padded wall juts out toward the foul line. McLouth went into a feet-first slide, stuck his glove out and caught the ball, holding on even as he almost immediately slammed into the wall.
"I tried to slide a little bit early, so I could almost coast into it on my butt so I wouldn't go so fast into the wall," McLouth said. "It was kind of lucky, too, to be honest with you -- slide and you know you're going to be close and just throw your glove out."
McLouth banged up his knee a bit on the cement part of the wall below the padding. He also got a chunk of skin on the outside of his finger peeled up, causing bleeding that led the Nats to remove him from the game. The training staff later cut the skin off, leaving McLouth with a patch of bare flesh now covered by the bandage.
For now, neither McLouth nor manager Matt Williams considers the injury to be serious. McLouth was out of the starting lineup on Tuesday, and his availability off the bench depended on whether the finger injury would prevent him from capably gripping a ball or a bat.
Andrew Simon is a reporter for MLB.com. Follow him on Twitter @AndrewSimonMLB. Teddy Cahill is a reporter for MLB.com. Follow him on Twitter at @tedcahill. This story was not subject to the approval of Major League Baseball or its clubs.