Ramos may have to wait for Friday to return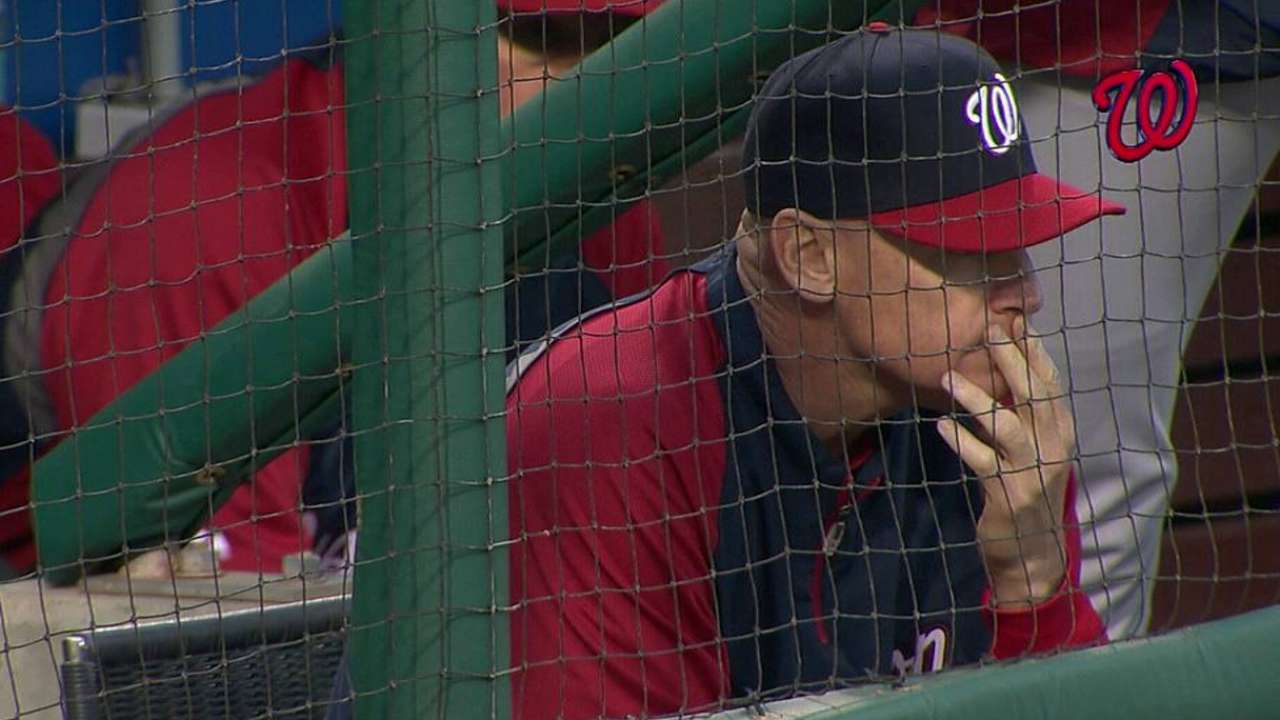 WASHINGTON -- If it were up to Nationals catcher Wilson Ramos, he would make his return from the disabled list on Wednesday, when the Nats finish their three-game series against the Dodgers. But that decision ultimately does not rest with Ramos, who might have to wait until Friday in Oakland to play for the first time since Opening Day.
Ramos, recovering from a left hamate bone fracture, finished a Minor League rehab assignment on Monday with Double-A Harrisburg, where he went 0-for-4, but caught the whole game with no issues. He continues to experience normal soreness in his wrist area, but it's nothing he can't play with.
"It feels good right now," said Ramos, who will wear a special pad at the heel of his glove to protect the wrist. "I feel more strong. My legs feel good. It felt good yesterday catching nine innings. I blocked a couple balls that hit my wrist and I didn't feel anything, so that's a good step."
Manager Matt Williams understands Ramos' eagerness to return, but suggested that it might not come until the club begins its road trip following Thursday's off-day.
"I know that he feels good and that he's played well, but we haven't made a decision on that one yet," Williams said. "We'll see how it goes. He'll go through a full workout today and we'll evaluate where he's at. I want to put my eyes on him, too. I know our whole staff does."
Williams is not concerned about the hamate injury nearly as much as Ramos' ability to catch on a regular basis and run the bases without incident. Ramos missed significant time with hamstring injuries last year, and Williams wanted to watch him run on Wednesday to make sure "there's no tentativeness."
If the Nats wait until Friday to activate Ramos, he could make his return as a designated hitter in the American League ballpark. In that case, Williams said the club might keep three catchers on the roster for that series.
For his part, Ramos expressed optimism about the health of his legs, as well as his defense behind the plate and his timing at it. He crushed a pair of home runs in two games at extended spring training and another as the DH for Class A Hagerstown on Sunday. While hamate injuries have the reputation for sapping power even after a player recovers, Ramos' doesn't seem to have disappeared.
"I don't have my full power already, but I feel the ball's still jumping from my bat," said Ramos, who hit 16 homers in only 78 games last season.
With various injuries having limited Ramos to 104 games since the start of the 2012 season, he's more than ready to get back on the field -- and stay there.
"That happens in baseball," Ramos said. "I was a little bit frustrated with that, but right now it feels good. I feel happy because I'm back. It's not like with my knee, I lost all of the season. This was quicker, and I'm always working hard, keeping my head up."
Andrew Simon is a reporter for MLB.com. Follow him on Twitter @AndrewSimonMLB. Teddy Cahill is a reporter for MLB.com. Follow him on Twitter at @tedcahill. This story was not subject to the approval of Major League Baseball or its clubs.