Desmond starting to find groove at plate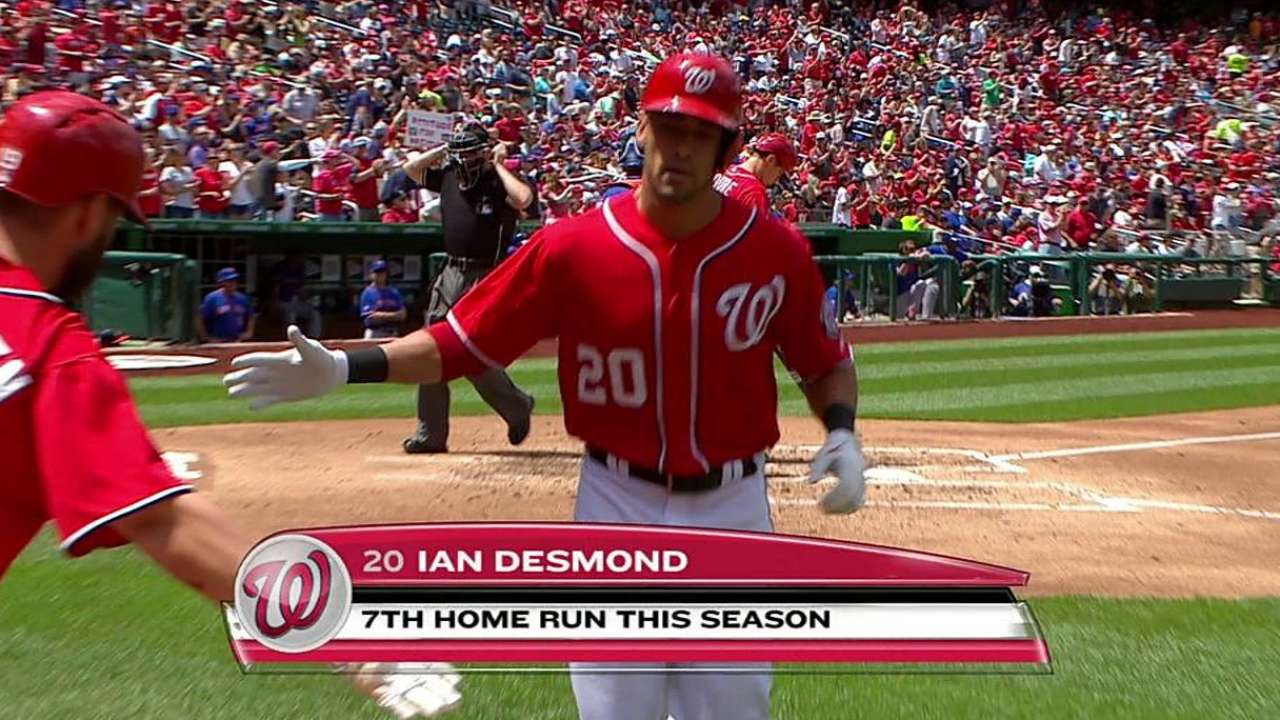 PITTSBURGH -- It appears Nationals shortstop Ian Desmond is getting hot with the bat. In his last 10 games entering Thursday's action, Desmond was hitting .293 with three home runs and eight RBIs. He added a solo shot -- his ninth long ball of the season -- in the Nats' 3-1 loss to the Pirates on Thursday.
Despite a slow start to May, Desmond was never concerned about his batting average. He said he no longer panics like he would earlier in his career. In the past, he would change his hitting mechanics.
"Sometime that happens," Desmond said referring to slumps. "I haven't been doing anything differently. I'm just hitting the ball. As I've gotten older, I realize [slumps] are part of the game. You go through stuff like that. In the past, I've panicked. I would make drastic changes. Now, it's just trusting in my [plan] and realize what I can bring. I've done it. Now it's about me staying consistent."
Desmond has been off to slow start before. Take 2011: During the first half, he hit .223 with a .264 on-base percentage, but he came back after the All-Star break and hit .289 with a .338 on-base percentage. Desmond was able to make his comeback that year by picking Ryan Zimmerman's brain. Zimmerman couldn't teach him how to hit, but he told Desmond to break down his at-bats after every 100.
"I started to realize after 100 at-bats, it's over. You can't look back in those 100 at-bats. And then the next 100 at-bats come," Desmond said. "Throughout the course of the year, if you break down 100 at-bats for every hitter, there are going to be ups and downs. I realize everyone goes through it. Obviously, you want to limit the gaps between the ups and the downs, but it's not always in your control. You can try and do things and make adjustments, but if you are not getting the results, you are not getting the results."
There was a point earlier in the season where Desmond was having problems in the field. By April 22, Desmond already had eight errors, but in his last 26 games, he has made only two errors and had an errorless streak of six games entering Thursday's action.
Desmond said he can't explain the slow start with the glove.
"If I could, I would fix it, get rid of it and eliminate it from my game, but I guess I have to keep on trying to find the formula," Desmond said.
When things are going wrong, Desmond is always available to the media. He is always in front of his locker. He wants to set a good example for his children.
"You can't be one guy when you are doing well and another when you are doing badly," Desmond said. "That's something that I feel I'm getting better at -- becoming more of a man in that sense. It is what it is. I have to answer questions. I can't hide from the media, I can't hide from my wife and kids. I have to be a pro. That's what I try to do.
"If there is anything I could pass on to my kids, it would be, 'Don't let successes and failures change you.'"
Bill Ladson is a reporter for MLB.com and writes an MLBlog, All Nats All the time. He also could be found on Twitter @WashingNats. This story was not subject to the approval of Major League Baseball or its clubs.