Desmond displaying impressive power numbers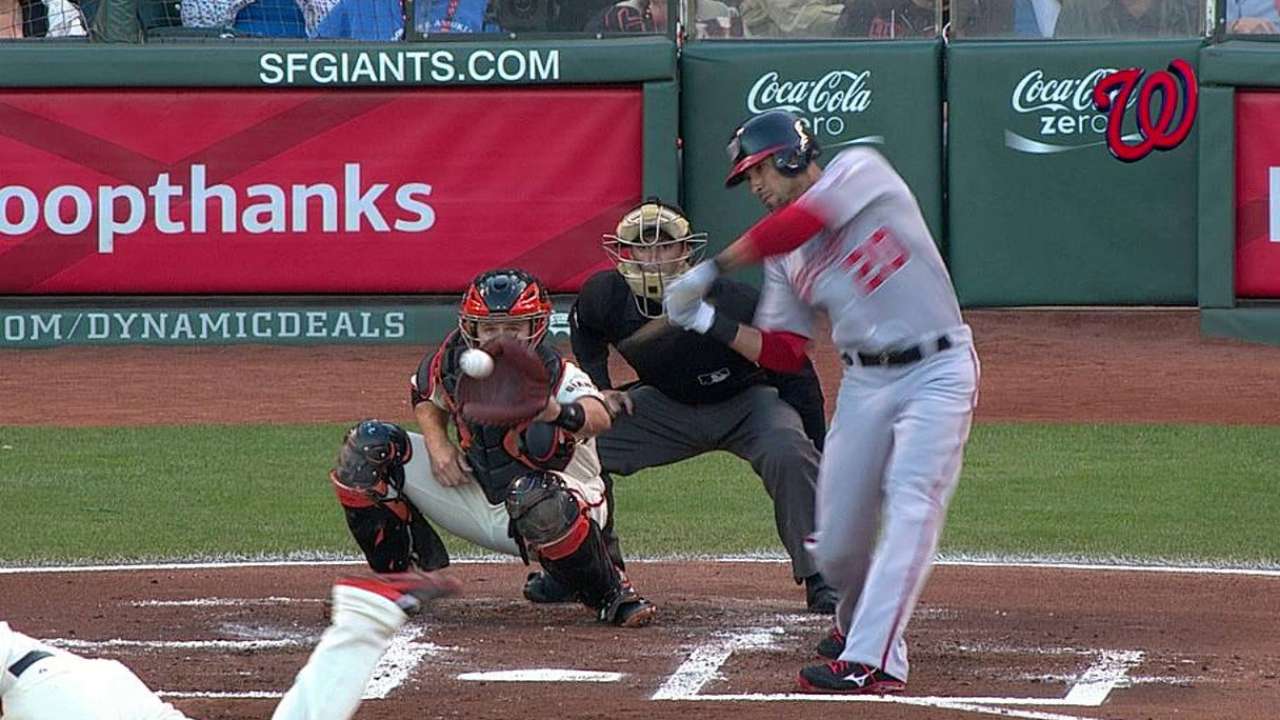 ST. LOUIS -- Washington shortstop Ian Desmond has hit 45 home runs over the past two seasons, but is on pace for his best power season yet. Through the team's first 67 games, Desmond has 13 home runs and 42 RBIs.
"I think it's probably just maturing as a hitter and understanding the pitchers more -- being more of a veteran knowing how guys are pitching him, what they're trying to do, understanding himself more as a hitter," Washington hitting coach Rick Schu said. "He'll hit for power. I see him hitting for average. He strikes out a little bit too much right now. I think he has the ability to be a guy who can hit for average, drive in runs, hit homers -- be a total package. It's just a matter of him maturing. He's going to play in the big leagues for a long time, so he's only going to get better."
Desmond's high for homers was 25 in 2012. He had a career-high 80 RBIs last season. This season, only Colorado's Troy Tulowitzki has more home runs and RBIs as a shortstop in the National League.
"It's one of those years, the ball's going out of the park," Desmond said. "I haven't had a bunch of singles -- to this point the ball's been carrying for me. Sometimes you hit the ball on the ground, sometimes you hit in the air, and this year I'm just hitting it in the air more."
Desmond's hitting approach hasn't changed over the last couple of seasons.
"Just trying to put the barrel on the ball," Desmond said. "That's pretty much been my philosophy for the last couple of years. Don't really try to aim -- just try to get that barrel there and make solid contact."
The only thing down offensively for Desmond is his average. Entering Sunday's game against the Cardinals, he was hitting .232, which is almost 40 points below his career average.
Schu believes Desmond has been putting more pressure on himself due to the myriad of injuries the Nationals have sustained. Schu said once the lineup stabilizes, Desmond's average should rise to its normal level.
"He's special," Schu said. "Every time he steps to the plate, he can get you back into the ballgame with one swing. It's something you can't teach. He's got the gift from God and thunder in those hands and he's exciting to watch."
Joe Harris is a contributor to MLB.com. This story was not subject to the approval of Major League Baseball or its clubs.