Werth making most of 'honor' of batting third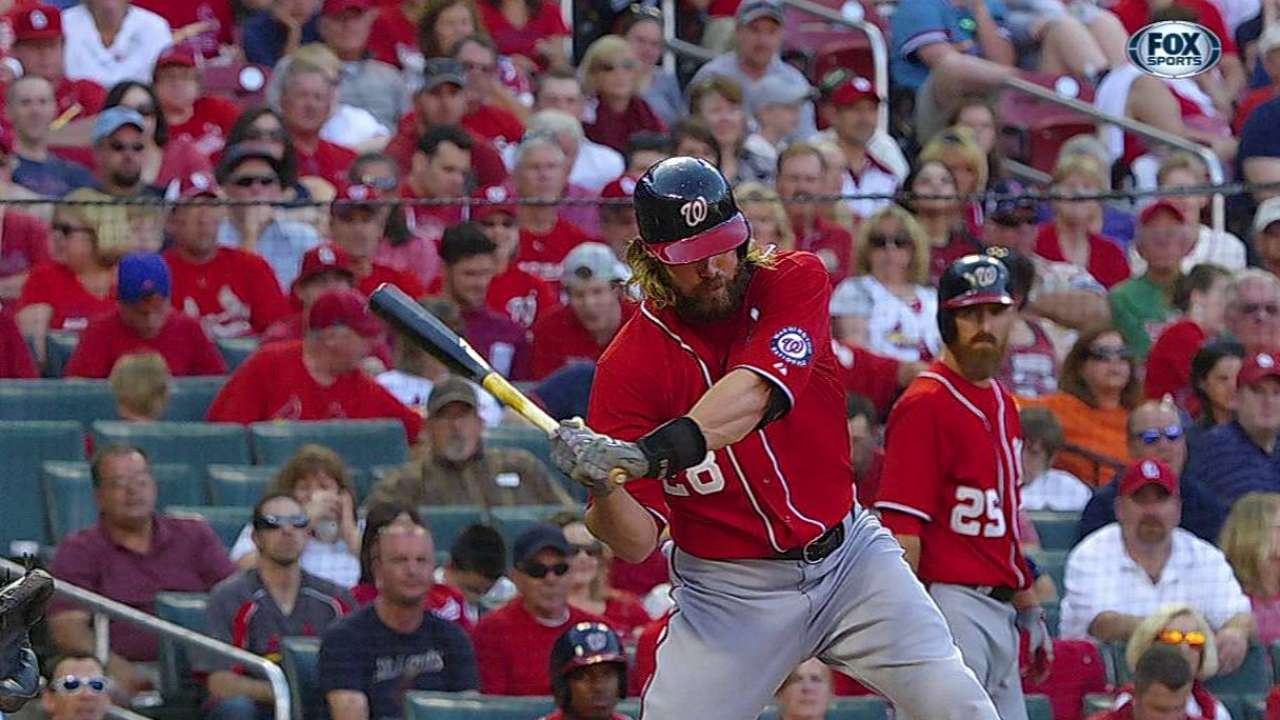 WASHINGTON -- Nationals outfielder Jayson Werth has been successful hitting everywhere in the lineup, but he said recently it's an honor to be hitting third, which he has done for most of this season.
Werth credits his family for feeling this way. As a kid growing up in Illinois, Werth's family -- his stepfather, Dennis Werth, grandfather and uncle -- often told Jayson that the team's best hitter bats third.
Talking to Werth, hitting third seems to be the best thing that ever happened to him. This is a guy who has won a World Series title with the Phillies in 2008 and is considered by many to be the team leader with the Nationals.
"To add that honor of hitting third bestowed upon you, I understand what a great responsibility it is because I haven't always hit third. I earned it," Werth said. "Nowadays, you see these kids coming up and given the middle of the order and they didn't have to earn anything. I was a first-round pick, but after that, I had earned it.
"I'm aware how fragile it is. I know who we have on this team, the guys that hit around me. Zim [Ryan Zimmerman] has hit third for a long time. He is a pure hitter. I know if I'm not right, go into an extended slump or don't hit like I have in the last year and a half, I'm not going to be hitting third. I won't deserve it either. I understand it and I love it. I love doing it. As long as I can do it and help the team, be that batter in the middle, I want to do it."
Werth has done the job hitting third. Entering Wednesday's action, he has reached base 11 straight games and has a .389 batting average against left-handed pitching. His 33 RBIs ranked fourth on the Nationals.
While Werth would like to drive in 100 runs for the first time in his career, his No. 1 goal is to win the World Series as a member of the Nationals.
"It's always been that way," Werth said. "Whatever my numbers look like at the end of the year, if we win the division or give ourselves a chance to win the World Series, I'll take whatever those numbers are -- 75 or 140 RBIs. It makes no difference. The one thing about me is, I'm going to score more runs than I drive in because of the type of batter than I am. I'm an on-base guy. I always have been that way. You drive in 140 runs and you don't win the division, who cares."
Bill Ladson is a reporter for MLB.com and writes an MLBlog, All Nats All the Time. He also can be found on Twitter @WashingNats. Daniel Popper is an associate reporter for MLB.com. This story was not subject to the approval of Major League Baseball or its clubs.