Harper homers thrice; Monday return possible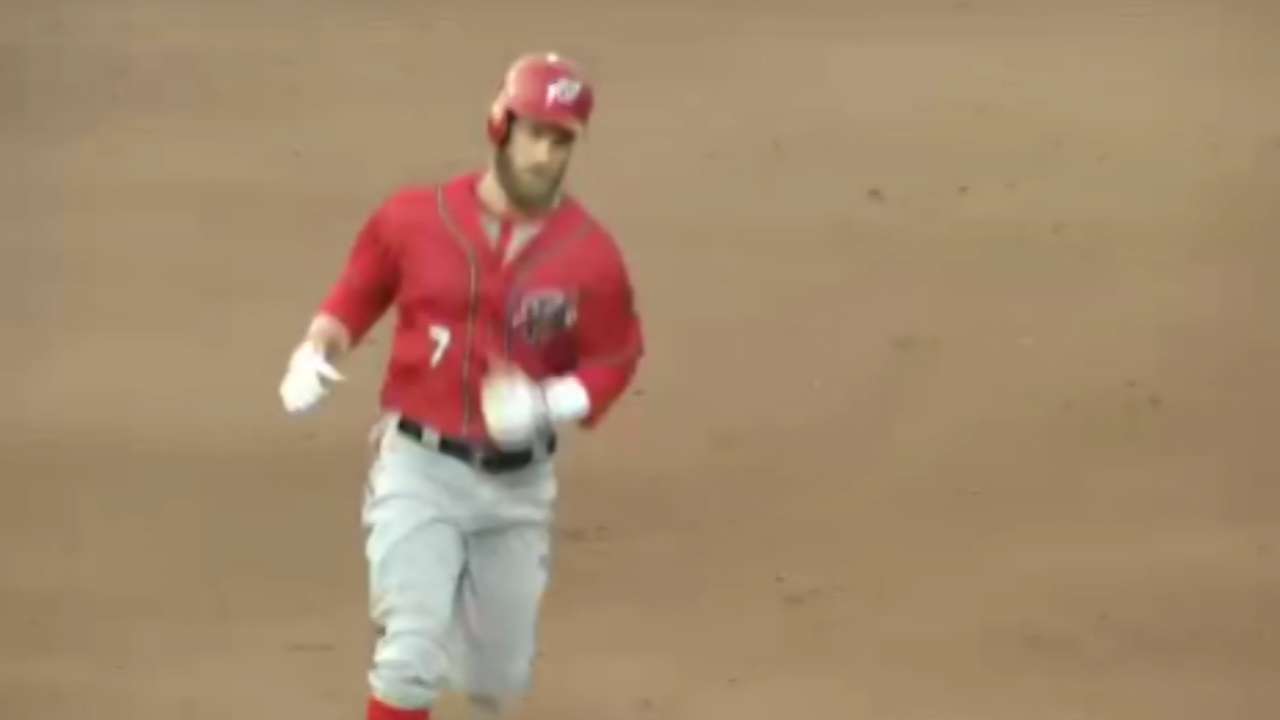 CHICAGO -- Nationals manager Matt Williams has maintained it is a "possibility" Bryce Harper will return to team on Monday in Washington. On Saturday night, the two-time All-Star strengthened his case that the club should do just that.
Harper went 4-for-5 with three home runs and five RBIs as the designated hitter in Double-A Harrisburg's 10-4 win at Akron. It was the second straight game he played a full nine innings, something Williams said Harper would have to do without issue before the club would be confident in bringing him back. Harper has been out since April 25 after injuring his left thumb and undergoing surgery, and he was placed on the 15-day disabled list on April 27.
"He hit into a double play. He also did a couple other things," said a smirking Williams. "I'm sure there's a text waiting somewhere about his night and how he feels, so we'll have more info on that tomorrow."
Williams was in no rush after Saturday's doubleheader sweep to make a declaration about Harper's next move. Harper is scheduled to play another nine-inning game on Sunday, this time in left field.
"It depends on how he feels. We'll get the report, we'll talk to him and see how he's feeling and whether there's any soreness or anything like that," Williams said. "We'll see how it goes tomorrow."
On Friday, Harper manned center field in Harrisburg's 4-3 win over Akron, chipping in a single, two walks, two RBIs and two stolen bases in three attempts. Harper initially hurt his thumb diving head-first into third base.
"We're going to continue to encourage him to slide feet-first," Williams said. "He wears a protective guard that would, if you got in a situation where he got the thumb on the bag, it would stop it. But it's hard to take that away from him, because that's the way he plays. We would encourage to slide feet-first when at all possible."
Joe Popely is an associate reporter for MLB.com. This story was not subject to the approval of Major League Baseball or its clubs.