In one inning, Span makes two sparkling plays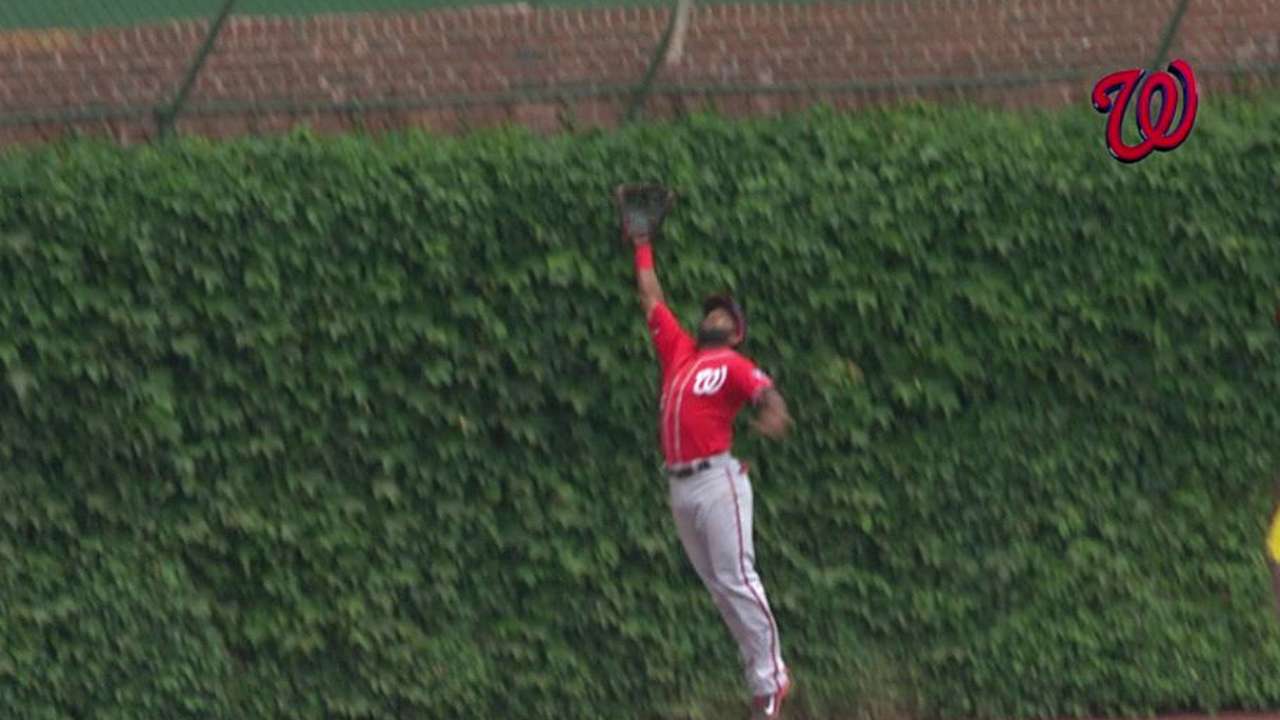 CHICAGO -- Center fielder Denard Span made a couple of tremendous plays in the fourth inning of Saturday's doubleheader opener that helped the Nationals dispatch the Cubs, 3-0, at Wrigley Field.
Manager Matt Williams doesn't understand why anyone would be surprised.
"It's every day. You look back to the first couple of games [of the series] and he made a couple of plays in each gap to save extra-base hits for us," Williams said. "It's gold out there."
Span's first impressive play of the afternoon came in the fourth, when Justin Ruggiano led off with a drive to deep center. Span initially turned to his left before putting his head down, twisting back to the right and leaping against the ivy-covered brick wall to rob Ruggiano of extra bases.
"Well, I didn't anticipate twisting like that. I knew the ball was hit hard," Span said. "My first reaction was just to open up and get back and I think the wind might have blew the ball the other way, so that's why I had to take my eye off the ball, spin around and then find the ball and find the wall. Once I knew where the wall was, I looked up and just made a play."
Sounds simple enough. Most importantly, Span was able to protect himself from a nasty collision with the wall. Span recalled the Cubs' Junior Lake crashing into the metal door in right-center while trying to run down a ball in Thursday's game. That play knocked Lake out of the game in the second inning.
Span learned how to protect himself in the outfield through a different sport, however. A wide receiver at Tampa Catholic High School in Tampa, Fla., Span made the state All-Star football game as a junior in 2001.
"That comes from playing football, coming across the middle, catching the ball and protecting yourself," he said. "I always try to know where the wall is and try to protect myself, especially here with that brick wall."
After Anthony Rizzo walked, Span further filled his highlight reel on the third hitter of the inning, Starlin Castro, who blooped a fly to shallow center. In came a charging Span, who gloved it, transferred the ball from glove to hand and fired to first seemingly in one motion.
Span's throw doubled off Rizzo to end the inning. He said he worked extensively with an outfield coach in Minnesota, where he spent the first eight years of his career, on making that exact play.
"I've been working on it a while, but I knew that I just trusted myself. I just got rid of it quick, and my mechanics -- you really can't have good mechanics when you're throwing on the run like that," Span said. "You're running full speed. It's just about the transfer.
"You see infielders with quick hands, and it's just about catching the ball and trying to get rid of it as quick as possible."
Though he never played alongside longtime Twins outfielder Torii Hunter in the regular season, Span picked up a thing or two from the the nine-time Gold Glove Award winner.
"I got a chance to watch him in two or three Spring Trainings do all of his outfield work," Span said. "He's still to this day one of the smoothest guys I've seen."
Pretty soon they'll be saying that about Span.
Joe Popely is an associate reporter for MLB.com. This story was not subject to the approval of Major League Baseball or its clubs.