Williams has 'Bryce's back in every way'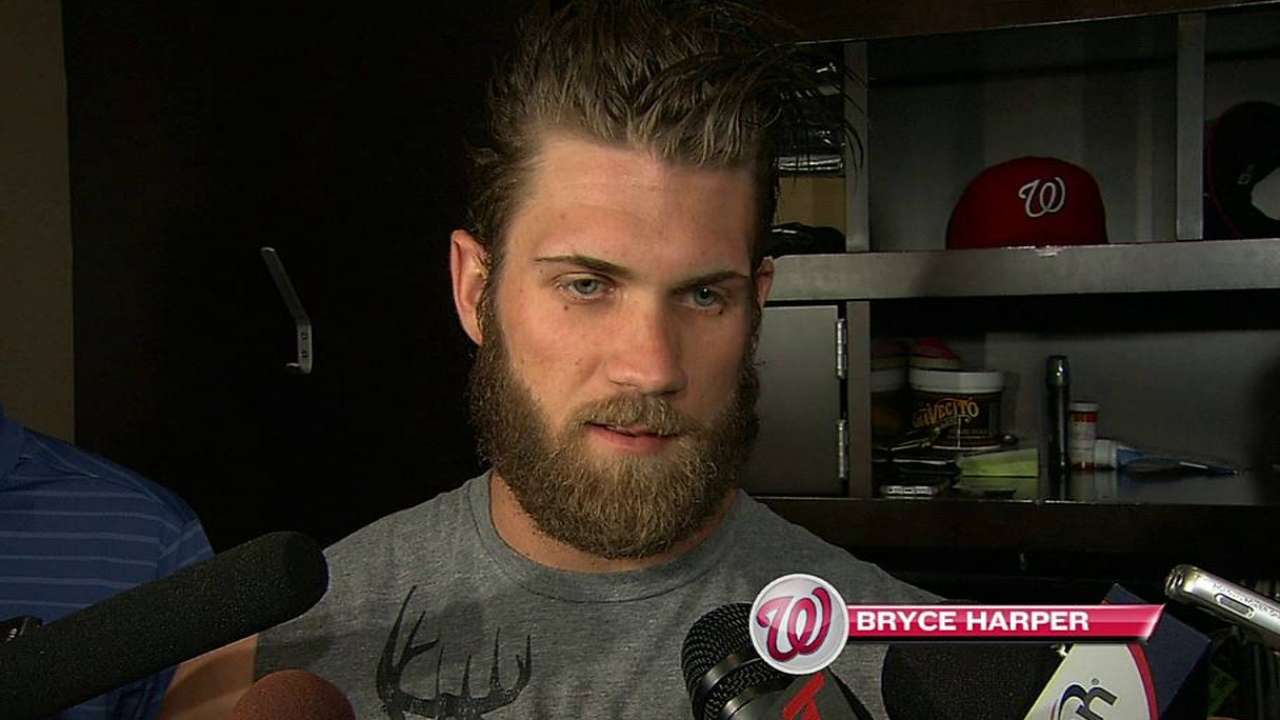 WASHINGTON -- Before Bryce Harper stepped onto the field Monday night to play in his first Major League game since April 25, the 21-year-old slugger offered his opinion on the lineup that Nationals manager Matt Williams had assembled against the Rockies.
Williams had Ryan Zimmerman back at third base, despite his earlier comments that he's more comfortable in left, and Harper in left. Anthony Rendon went back to second, and Danny Espinosa was on the bench.
"Rendon is a great third baseman and should be playing third, and we have one of the best [defensive] second basemen in Danny Espinosa," Harper said Monday. "Of course, you want the best-hitting lineup in there. I think Rendon playing third and Zim playing left is something that would be good for this team."
Harper's proposed lineup would presumably move himself to center field and Denard Span to the bench.
"If I had the lineup, it would maybe not be the same. He's got the lineup card. He's got the pen. That's what he's doing," Harper said, referring to Williams. "So there's nothing I can do about it."
Williams said he had a productive conversation with Harper regarding the comments, and he gave the young outfielder his full support.
"I've got to let you guys know something: I've got Bryce's back in every way," Williams said. "That will not change. I want him play every day, and I want him to play the way Bryce knows how to play. And he's going to hit in different spots in the lineup, and he's okay with that. And he's going to play in different spots in the outfield, and he's okay with that, too ... He and I are good. There's no rift."
Batting sixth Monday night, Harper went 1-for-3 with an RBI in the Nationals' 7-3 victory. Williams opted for the same lineup on Tuesday night, largely because of the success the team had offensively in the series opener.
Daniel Popper is an associate reporter for MLB.com. He also can be found on Twitter @danielrpopper This story was not subject to the approval of Major League Baseball or its clubs.