MLB.com Columnist
Jim Callis
Pipeline Inbox: Will Schwarber stick with catching?
Jim Callis responds to fans' questions about baseball's top prospects and more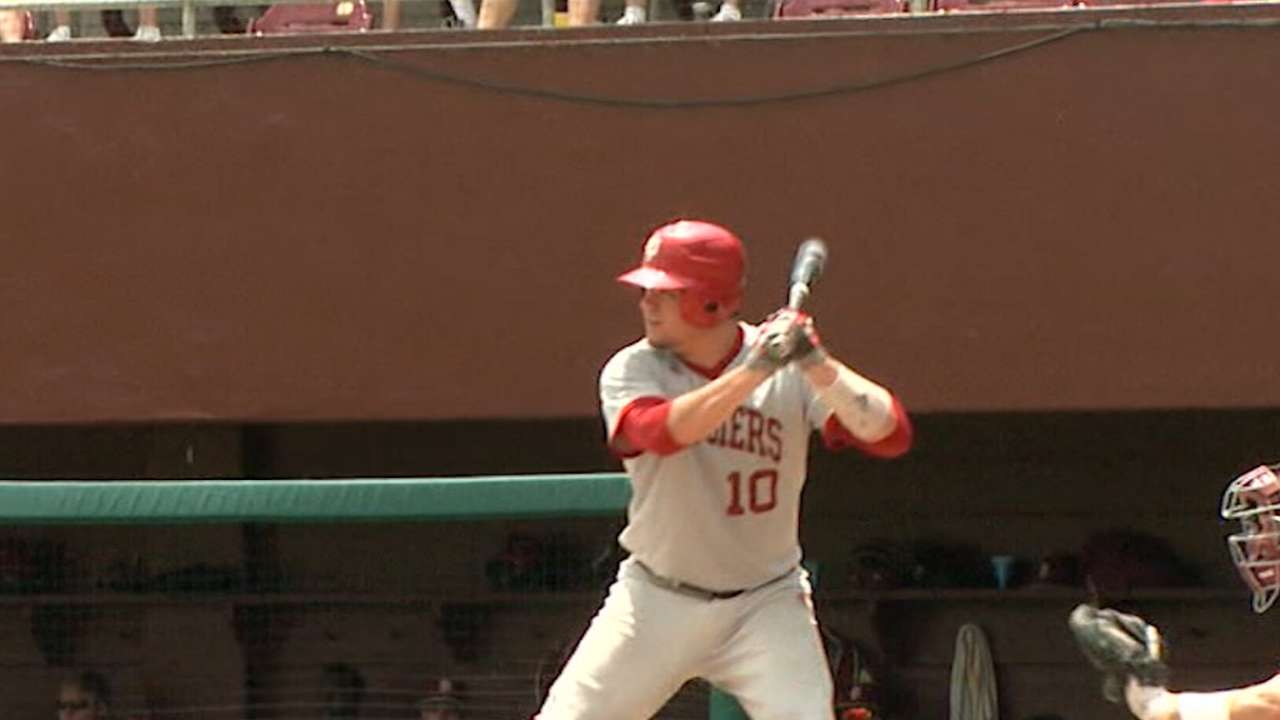 Wednesday was a busy day of amateur signings, as it was the start of the international signing period for 16-year-old amateurs. MLB.com's Jesse Sanchez was busy reporting all of the major transactions.
Meanwhile, the Blue Jays announced the signings of first-round Draft picks Jeff Hoffman and Max Pentecost. With 15 days remaining before the Draft signing deadline, 30 of the 34 first-round picks have contracts or have agreed to terms on one. In the first 10 rounds, we've confirmed deals for 291 of the 315 selections.
What are the chances that Kyle Schwarber, the No. 4 overall pick in the 2014 Draft by the Cubs, remains a catcher throughout his career?
-- Noah T., Lexington, Ky.
Schwarber already is splitting time between catcher and left field in his pro debut, and my guess is that he becomes a full-time outfielder next year. While he likes to catch, it doesn't make sense to add considerably to his development time or detract from his offensive potential by keeping him behind the plate.
Schwarber was the best all-around college hitter in the Draft, displaying a combination of bat speed, strength and strike-zone discipline while starring at Indiana. He has had no trouble adapting to pro pitching, hitting .456/.536/1.000 with eight homers in his first 16 games since signing for $3,125,000. He adds to the Cubs' impressive collection of position prospects that is led by Kris Bryant and Javier Baez, and at this rate, Schwarber could reach Wrigley Field in 2016.
Chicago lacks an obvious catcher of the future, and Schwarber does have some raw arm strength and good agility for a six-foot 235-pounder. While scouts believe that he'd work diligently on his defense, they also question whether he'd become more than an adequate backstop. It's not worth the time and the wear and tear to find out.
I've watched Yankees second baseman Rob Refsnyder tear it up in Double-A this year, and now he's doing the same in Triple-A. I look at the big league club and see Brian Roberts as his only real obstacle. Am I wrong to think that Refsnyder could end up playing in New York before this year is over?
-- Ken R., Lakewood, Calif.
Refsnyder definitely can hit. He concluded his college career at Arizona with a national championship and the Most Outstanding Player award at the 2012 College World Series, where he batted .476 with two homers in five games. When he signed for $205,900 as a fifth-round pick that summer, the questions were how much power he could produce and how well he could adapt to a projected move from right field to second base.
The returns from his first full pro season in 2013 were just so-so, as he batted .293 between two Class A stops but delivered just six home runs and looked shaky as a full-time second baseman. But he has made huge strides at the upper levels of the Minors this year, hitting .342/.408/.549 with nine homers and improved defense in 83 games.
Though the Yankees are less likely to promote from within than most organizations, they're getting little out of the 36-year-old Roberts, and Refsnyder could force their hand. It could come down to how New York evaluates Refsnyder's defense. While he has gotten better, he might not be more than an adequate second baseman at the big league level at this point.
What's the deal with D-backs third baseman Jake Lamb? He's hitting .317/.395/.562 in Double-A and profiles as a third baseman. Yet he wasn't drafted until the sixth round in 2012 and signed for $161,000. What changed?
-- Greg J., Loveland, Ohio
Lamb does fit the third-base profile nicely. He hits for power and average, and the numbers he's posting this season are in line with what he has done in three years as a pro. He also has the range, hands and arm to play quality defense at the hot corner.
In short, he looks like a better all-around third baseman than Matt Davidson, a supplemental first-rounder whom the D-backs dealt for closer Addison Reed in December. But at the time of the 2012 Draft, scouts wondered how much power Lamb would show in pro ball. He hit just 10 homers in 162 games in three years at Washington and slugged just .310 with wood bats in the Cape Cod League in 2011.
Lamb has put those concerns to rest, however, by smashing 33 homers and slugging .550 in 216 pro games. The only thing that has stopped him from hitting was a broken hamate bone in his right hand last summer.
Do you think teams ever will be able to trade Draft picks other than the competitive-balance selections?
-- Nick R., Boulder, Colo.
Draft rules didn't allow for the trading of picks at all until the current Collective Bargaining Agreement took effect in December 2011. The only selections presently allowed to change hands are the 12 awarded in the competitive-balance lottery, and they can only be dealt once and it must be during the regular season.
I've covered the Draft for 25 years, and the discussion of whether clubs should be allowed to trade picks dates back at least that far. Proponents like that it would give more options to teams, while opponents fear that it will give too much leverage to agents and players. When Pete Incaviglia, the No. 8 overall pick in the 1985 Draft, refused to agree to terms with the Expos unless they dealt him immediately afterward, MLB responded with a rule that said draftees couldn't be traded before the one-year anniversary of their signing.
In the past two Drafts, six of the 24 competitive-balance picks have been traded. It seems inevitable that more widespread dealing will be permissible in the near future, perhaps when a new CBA is negotiated after the 2016 season. There may still be some restrictions, as I doubt that all 40 rounds will be in play or that choices will be allowed to be swapped while the Draft is happening.
Jim Callis is a reporter for MLB.com and writes a blog, Callis' Corner. Follow @jimcallisMLB on Twitter. This story was not subject to the approval of Major League Baseball or its clubs.