Pipeline preview: Gray, Hedges set to square off
Top pitching prospects slated to meet for first time in Texas League showdown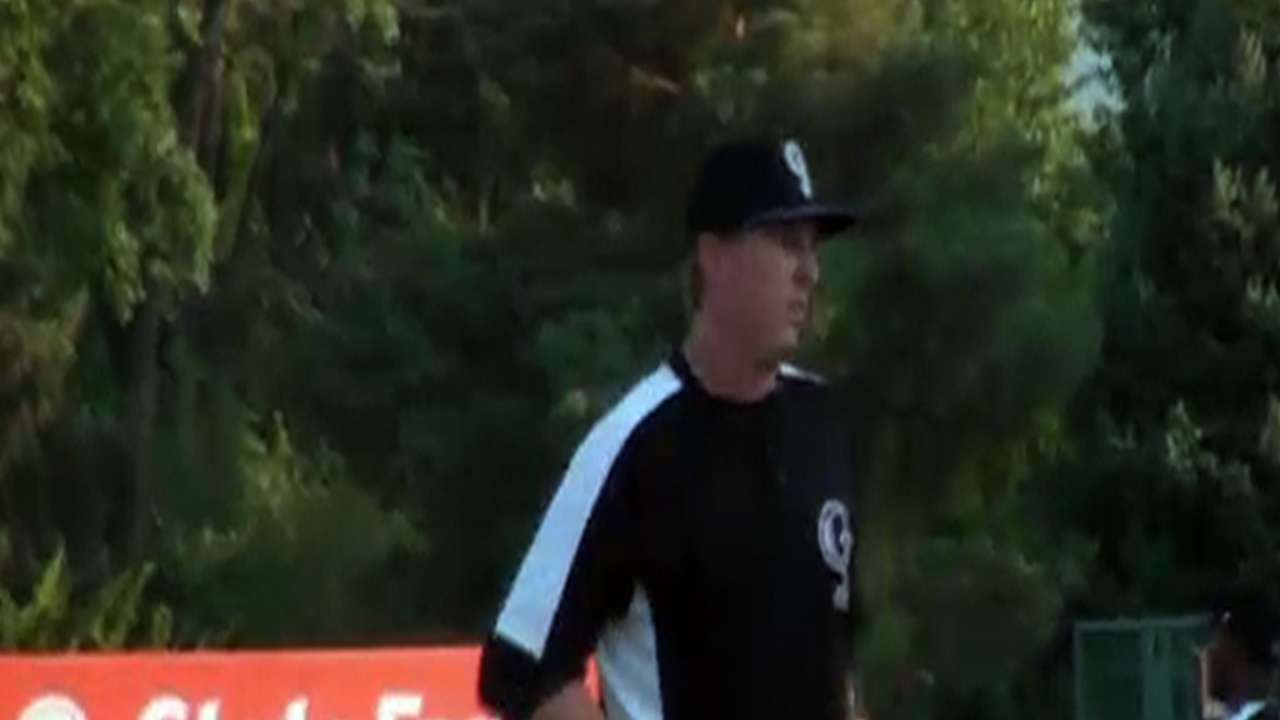 In years to come, Rockies' No. 1 prospect Jon Gray and Padres' No. 1 prospect Austin Hedges might become familiar rivals in the National League West. For now, however, they are playing in the Texas League and have never faced each other.
That is likely to change Friday, as Gray is scheduled to start for Double-A Tulsa against Hedges and San Antonio in a Fourth of July showdown. The game, which begins at 6:15 p.m. ET, can be seen on MiLB.TV.
Gray, ranked No. 13 on MLBPipeline.com's Top 100 Prospects list, is in the midst of a solid first full professional season. He has been with Double-A Tulsa since Opening Day and enters Friday 7-3 with a 3.76 ERA. He has struck out 73 batters and walked 22 in 79 innings.
The Rockies selected Gray out of the University of Oklahoma with the third overall pick in the 2013 First-Year Player Draft. He made his professional debut July 10, 2013, with short-season Grand Junction. In the last year, Gray has pitched at three levels, compiling an 11-3 record and a 3.17 ERA. Gray has struck out 124 batters and walked 30 in 116 1/3 innings.
Hedges, ranked No. 20 on the Top 100, has been known for his defense more than his offense throughout his career and has struggled at the plate this season. He is hitting .245/.292/.374 with five home runs in 71 games. Hedges is just 21 years old, making him one of the youngest players in the Texas League.
In addition to Gray, several other pitchers ranked on the Top 100 are scheduled to start Friday, including Mark Appel (No. 14), Dylan Bundy (No. 17), Julio Urias (No. 51), A.J. Cole (No. 56), Eduardo Rodriguez (No. 55), Jose Berrios (No. 72) and Edwin Escobar (No. 77). Fans can watch Cole, Rodriguez and Escobar on MiLB.TV, beginning with Rodriguez and Double-A Bowie visiting Akron at 6:35 p.m. ET.
Appel and Urias will face off in Lancaster at 9:30 p.m. ET, pitting the first overall pick in the 2013 First-Year Player Draft against the youngest player in the California League. Appel, the Astros' No. 2 prospect, won his last start for Lancaster. It was his first victory in a disappointing first full professional season and he enters Friday 1-3 with a 9.55 ERA.
The Dodgers have carefully watched Urias' workload this season with Rancho Cucamonga and the 17-year old is averaging 3 1/3 innings per outing. The Dodgers' No. 3 prospect is 1-1 with a 3.44 ERA and 52 strikeouts in 49 2/3 innings this season.
Top prospect probables
Mark Appel (Astros' No. 1), Lancaster vs. Rancho Cucamonga
Jose Berrios (Twins' No. 5), Fort Myers vs. Charlotte
Michael Blazek (Brewers' No. 18), Nashville at Round Rock
Dylan Bundy (Orioles' No. 1), Frederick at Lynchburg
Jamie Callahan (Red Sox's No. 18), Greenville at Augusta
Andrew Chafin (D-backs' No. 12), Reno vs. Sacramento
A.J. Cole (Nationals' No. 2), Syracuse at Lehigh Valley
Tim Cooney (Cardinals' No. 9), Memphis vs. New Orleans
Edwin Diaz (Mariners' No. 4), Clinton vs. Kane County
Edwin Escobar (Giants' No. 2), Fresno vs. Tacoma
Brian Flynn (Marlins' No. 5), New Orleans at Memphis
Amir Garrett (Reds' No. 19), Dayton at Bowling Green
Jon Gray (Rockies' No. 1), Tulsa at San Antonio
Mitch Gueller (Phillies' No. 17), Williamsport vs. Auburn
Ismael Guillon (Reds' No. 9), Bakersfield vs. Modesto
David Holmberg (Reds' No. 6), Louisville at Indianapolis
Jason Hursh (Braves' No. 4), Mississippi at Montgomery
Mike Montgomery (Rays' No. 18), Durham at Gwinnett
Aaron Northcraft (Braves' No. 14), Gwinnett vs. Durham
Eduardo Rodriguez (Orioles' No. 2), Bowie at Akron
Joe Ross (Padres' No. 9), Lake Elsinore at High Desert
Kyle Smith (Astros' No. 18), Corpus Christi vs. Springfield
Matt Smoral (Blue Jays' No. 20), Bluefield at Elizabethton
Chris Stratton (Giants' No. 7), San Jose vs. Stockton
Domingo Tapia (Mets' No. 12), St. Lucie vs. Jupiter
Julio Urias (Dodgers' No. 3), Rancho Cucamonga at Lancaster
Asher Wojciechowski (Astros' 13), Oklahoma City vs. Iowa
Teddy Cahill is a reporter for MLB.com. Follow him on Twitter at @tedcahill. This story was not subject to the approval of Major League Baseball or its clubs.