Espinosa working to fix swing from left side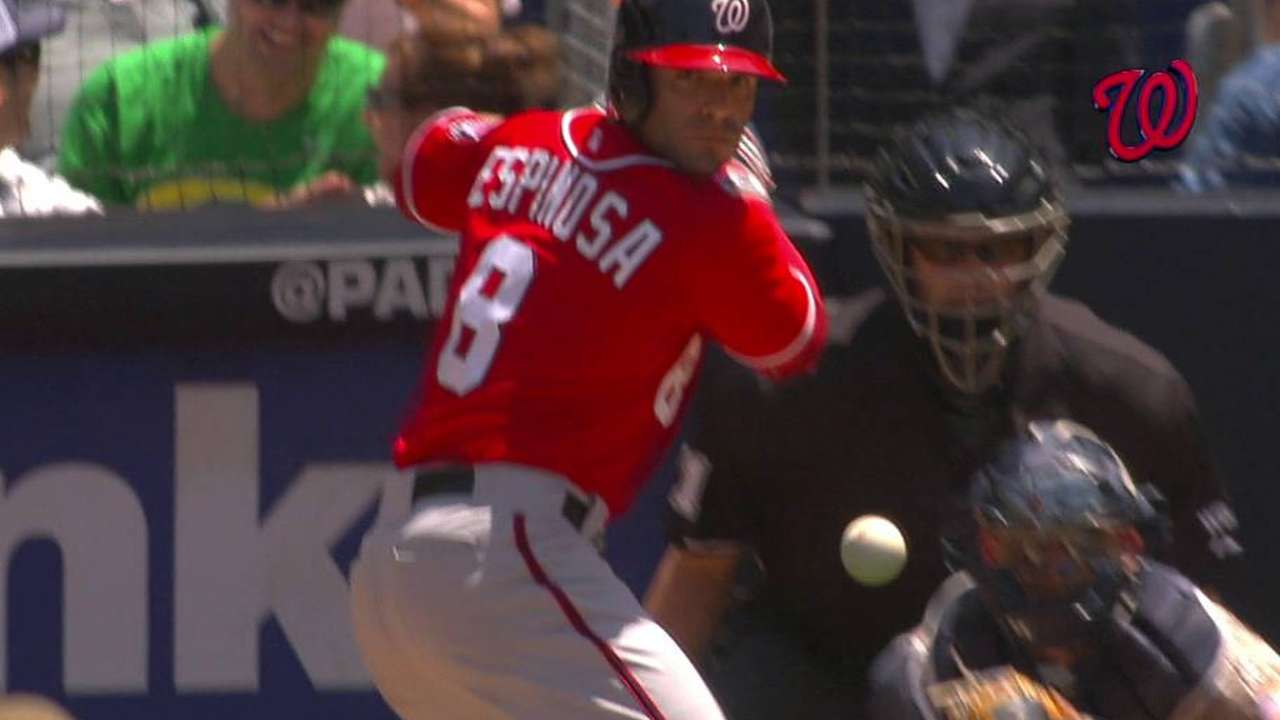 WASHINGTON -- Nationals second baseman Danny Espinosa is consistent as a right-handed hitter, going 18-for 65 [.277] entering Saturday, but he continues to have problems from the left side of the plate, hitting .196 with 75 strikeouts in 179 at-bats.
Why is Espinosa more successful from the right side of the plate?
"When he starts to swing from the hitting slot, he is more free [from the right side]," hitting coach Rick Schu said. "Left-handed, he has got a little longer path to get there, so he is more consistent right-handed."
Schu said he is not frustrated trying to fix Espinosa's left-handed swing, and he believes there is a lot of potential in the swing. Manager Matt Williams went so far as to say that it's special when Espinosa gets his bat head on the ball from the left side. The skipper loves Espinosa's power from the left side.
"You know in this game, if you try too hard, it's counterproductive," Schu said. "He wants to do so well. He is a hard-nose player. He tries too hard then tries to add more, so the swing gets a little long. … He has a chance to be a really good player and be in the big leagues for a long time."
There isn't any talk of making Espinosa strictly a right-handed hitter. As Williams put it, Espinosa continues to work hard in the batting cage and is trying to fix his left-handed swing. Williams wants to continue to give Espinosa matchups against right-handed pitching, which would come late in the game.
Since the return of Bryce Harper on Monday, Espinosa hasn't received one at-bat, but he has entered a game for defensive purposes.
Meanwhile, opposing teams continue to express interest in trading for Espinosa, but the Nationals have made it clear that they are not going to give him away.
Bill Ladson is a reporter for MLB.com and writes an MLBlog, All Nats All the Time. He also can be found on Twitter @WashingNats. This story was not subject to the approval of Major League Baseball or its clubs.