Barrett forced to change delivery to avoid balks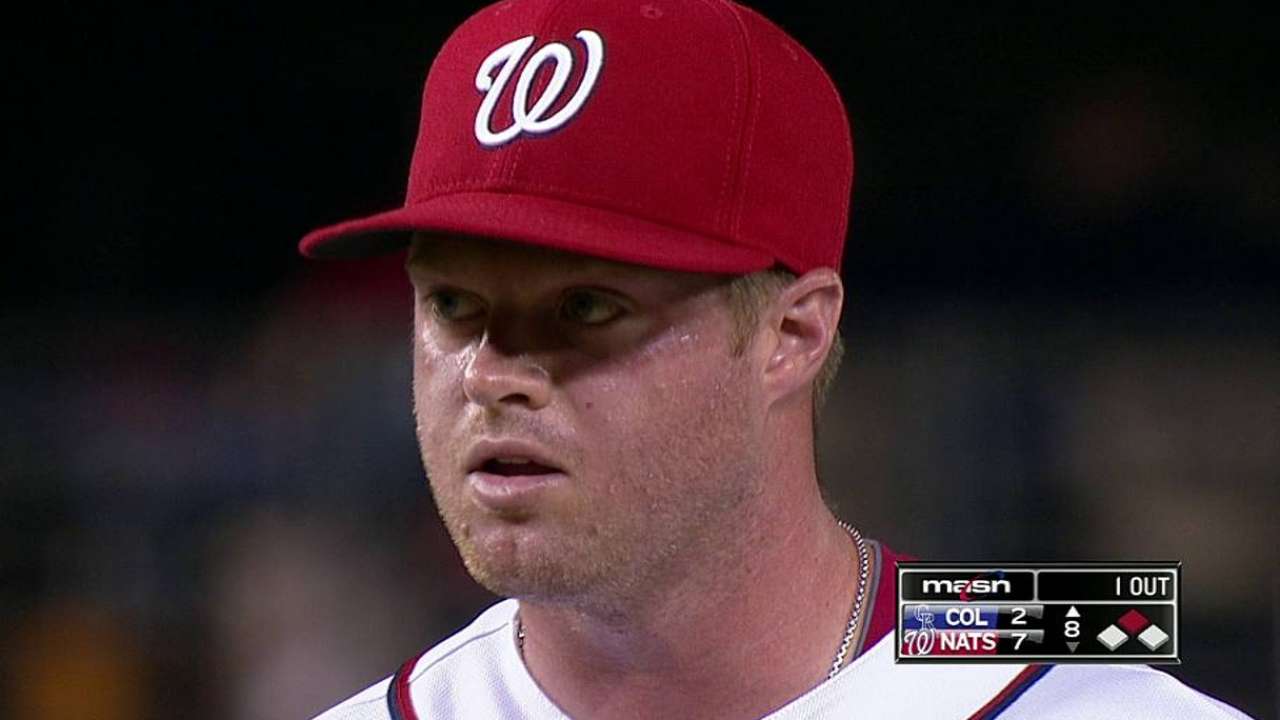 WASHINGTON -- On June 30 against the Rockies, Nationals reliever Aaron Barrett was called for his second balk in more than three seasons since implementing an unorthodox pre-pitch routine while with short-season Class A Auburn.
The delivery involved Barrett doing a double pump with his glove before coming to a complete stop. And despite the fact that, according to Barrett, home-plate umpire Joe West had umpired two previous innings during which he had pitched with runners on base, West called the right-hander for a balk, citing the movement of his glove.
Barrett altered his delivery and removed the hitch for the remainder of the inning. He returned to his normal routine against the Cubs in his next appearance on Friday, originally under the impression that the alteration would only be necessary when West was a part of the umpiring crew.
However, while sitting in the bullpen during the first inning of Monday night's series opener against the Orioles, Barrett received a call from the Nationals' dugout saying the right-hander would no longer be allowed to use the routine he had used for 3 1/2 seasons.
Whether West is a part of the crew of not, every umpire in the Majors will now call Barrett for a balk if he uses his old delivery.
"I don't know the specifics," Barrett said. "I just know that I'm not allowed to do it anymore. It stinks because [West] umpired two previous innings with runners on base before he called the balk on me, so it's kind of unfortunate. If he would have said something the first time, then, yeah, that would have been OK. But that's part of it. I'll make an adjustment."
The call from the dugout gave Barrett enough time to practice a new motion where his hands stay near his face for the whole time and never drop down to his waist before he comes set. Barrett said he entered the game feeling comfortable, but he still surrendered a two-run home run to Manny Machado, the first batter he faced.
After an impressive two months in which Barrett compiled a 0.92 ERA in 19 2/3 innings, the right-hander has cooled down substantially in June and July. He's let up seven earned runs in 8 2/3 innings over that span, four of which were scored in the last three games, including when West called Barrett for the balk.
Even so, Barrett pointed to aspects other than his change in delivery as the reason for his recent struggles. Namely, his sinker has lost some of the late, sharp movement it displayed earlier in the season -- something Barrett said he's trying to combat by keeping his front shoulder closed -- and he's fallen behind more hitters.
"You can try and make adjustments, for sure," Barrett said. "The last week or so I've been trying to stay through the baseball a little bit more, trying to get a little bit more extension, keep my left shoulder from flying open as much. … [Monday] night, I felt good. I felt like the ball was coming out great. It was just one of those days."
Daniel Popper is an associate reporter for MLB.com. He also can be found on Twitter @danielrpopper. This story was not subject to the approval of Major League Baseball or its clubs.