Pipeline preview: Gillaspie, Zimmer set to meet
Pair of prospects with older brothers in bigs to square off in New York-Penn League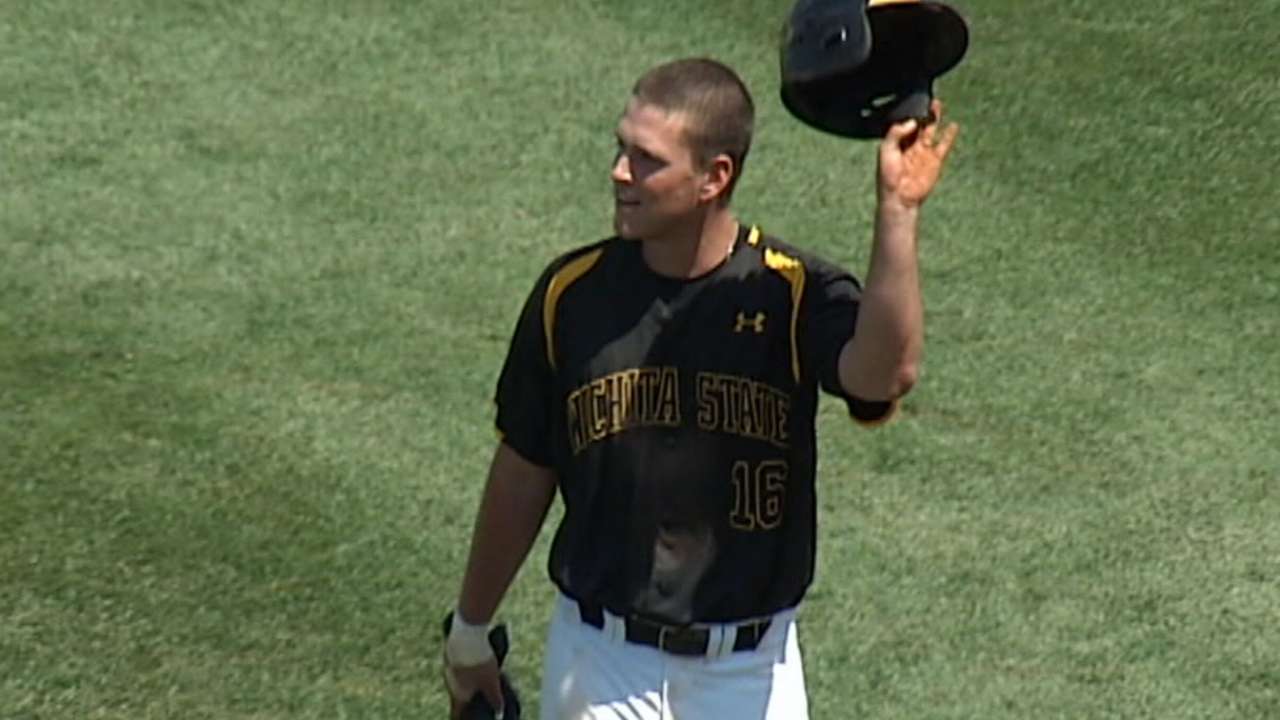 Casey Gillaspie and Bradley Zimmer were taken back to back in the first round of the 2014 First-Year Player Draft, Gillaspie No. 20 by the Tampa Bay Rays and Zimmer No. 21 by the Cleveland Indians. Both are the younger brothers of professional baseball players, and both excelled this spring for colleges that are a little off the beaten path for scouts.
Gillaspie and Zimmer will wrap up their first series against each other when short-season Hudson Valley hosts Mahoning Valley at 7:05 p.m. ET on Friday. Gillaspie and the Renegades will be going for the sweep as they look to improve on their 20-7 record, the best mark in the New York-Penn League.
Like his older brother Conor Gillaspie, the White Sox third baseman, Casey Gillaspie starred at Wichita State. This spring, the first baseman was named the Missouri Valley Conference Player of the Year after hitting .389/.520/.682 with 15 home runs in 59 games.
Gillaspie signed shortly after the Draft and was sent directly to Hudson Valley. Though he started his professional career slowly, striking out 13 times before recording his first extra-base hit, Gillaspie has been better of late. He is hitting .278/.366/.417 with five walks and six strikeouts in 10 games in July.
Bradley Zimmer also followed his older brother, Kyle Zimmer, to college. The brothers played one season together at the University of San Francisco before the Royals selected Kyle Zimmer with the fifth overall pick of the 2012 Draft. Bradley Zimmer didn't attract top-five pick buzz this spring, but he did establish himself as one of the top college outfielders by hitting .368/.461/.573 with seven home runs and 21 stolen bases in 54 games this spring.
Zimmer also reported directly to the New York-Penn League after signing. In 12 games for Mahoning Valley, he is hitting .286/.367/.357 with three stolen bases.
Zimmer hits third in the Scrappers' lineup, just ahead of catcher Francisco Mejia, the Indians' No. 6 prospect. Mejia is one of seven 18-year-old everyday players in the New York-Penn League this season, but he has held his own against the older competition. He is hitting .231/.314/.286 with 10 runs and 12 RBIs in 25 games.
Friday's Minor League slate will also be highlighted by a few pitchers ranked on MLBPipeline.com's Top 100 Prospects list who are scheduled to start, including Tyler Glasnow (No. 23), Kohl Stewart (No. 32), Lucas Sims (No. 48) and Trey Ball (No. 78). Fans can watch Sims and Ball on MiLB.TV at 7:05 p.m. ET.
Also among the day's scheduled pitchers is left-hander Kodi Medeiros, the Brewers' first-round pick last month. He is slated to take the mound for the Rookie-level Brewers in their game against the White Sox at 10 p.m. ET in Arizona League action. It will be Medeiros' professional debut, a little more than a month after he was selected with the 12th overall pick out of Waiakea High School in Hawaii.
Top prospect probables
Jason Adam (Royals' No. 8), Northwest Arkansas at Springfield
Alec Asher (Rangers' No. 8), Frisco vs. Corpus Christi
Trey Ball (Red Sox's No. 7), Greenville vs. Augusta
Manny Banuelos (Yankees' No. 11), Trenton vs. Akron
Ty Blach (Giants' No. 6), Richmond at Bowie
Corey Black (Cubs' No. 17), Tennessee vs. Jacksonville
Sean Brady (Indians' No. 17), Mahoning Valley at Hudson Valley
Cody Dickson (Pirates' No. 17), West Virginia vs. Greensboro
Zach Efflin (Padres' No. 11), Lake Elsinore vs. High Desert
Kendry Flores (Giants' No. 20), San Jose at Stockton
Jarlin Garcia (Marlins' No. 19), Greensboro at West Virginia
Tyler Glasnow (Pirates' No. 3), Bradenton vs. Tampa
Severino Gonzalez (Phillies' No. 6), Reading at New Britain
Luis Heredia (Pirates' No. 10), West Virginia vs. Greensboro
Tyrell Jenkins (Cardinals' No. 15), Palm Beach at Clearwater
Felix Jorge (Twins' No. 9), Elizabethton vs. Kingsport
Nate Karns (Rays' No. 7), Durham at Buffalo
Mike Kickham (Giants' No. 17), Fresno at Tacoma
Dace Kime (Indians' No. 13), Lake County vs. Great Lakes
Branden Kline (Orioles' No. 14), Frederick vs. Potomac
Matthew Koch (Mets' No. 19), St. Lucie vs. Lakeland
Cody Martin (Braves' No. 8), Gwinnett at Norfolk
Jon Moscot (Reds' No. 20), Pensacola vs. Montgomery
Ariel Pena (Brewers' No. 17), Nashville vs. Round Rock
Adam Plutko (Indians' No. 20), Carolina vs. Winston-Salem
Cody Reed (Royals' No. 13), Lexington vs. Hagerstown
Sal Romano (Reds' No. 14), Dayton vs. West Michigan
Lucas Sims (Braves' No. 1), Lynchburg at Myrtle Beach
Kohl Stewart (Twins' No. 4), Cedar Rapids at Clinton
Drew VerHagen (Tigers' No. 12), Toledo vs. Pawtucket
Trevor Williams (Marlins' No. 9), Jupiter vs. Daytona
Teddy Cahill is a reporter for MLB.com. Follow him on Twitter at @tedcahill. This story was not subject to the approval of Major League Baseball or its clubs.