MLB.com Columnist
Bill Ladson
Zimmermann has biceps strain; All-Star spot filled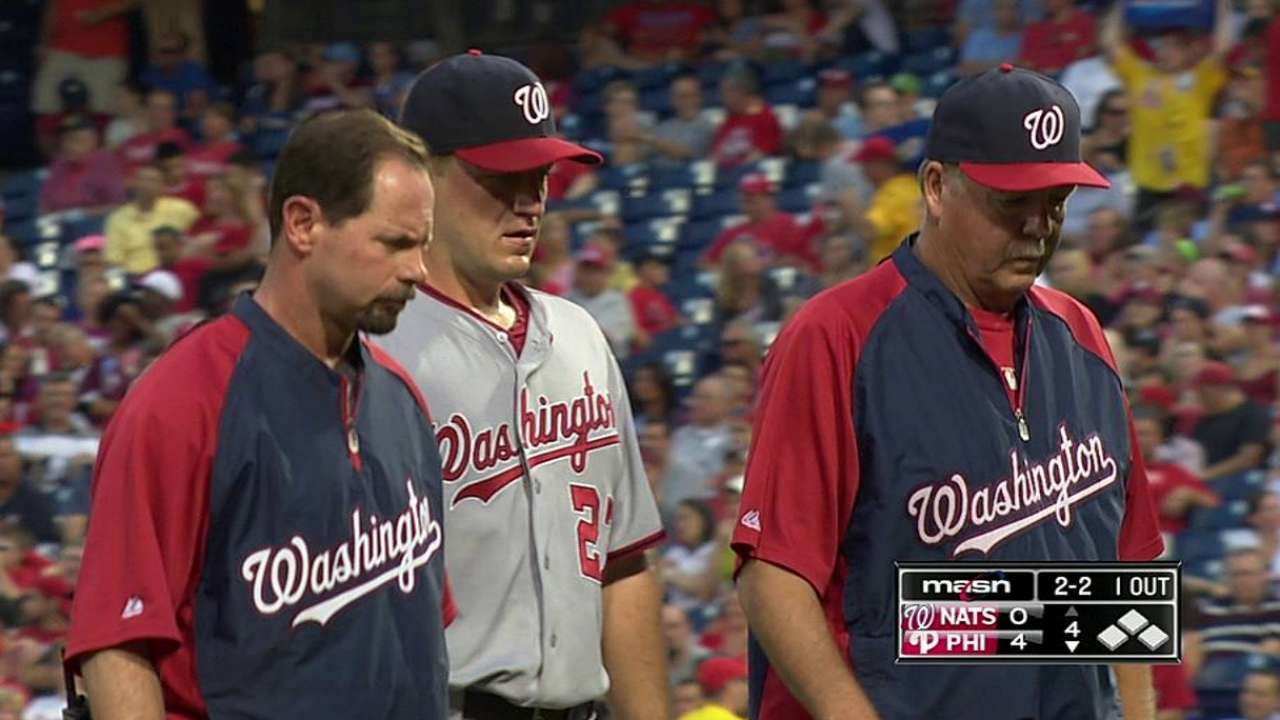 PHILADELPHIA -- Jordan Zimmermann had an MRI exam on his right arm on Saturday morning, and the results revealed a biceps strain. The test did not show anything wrong with Zimmermann's elbow or shoulder.
For now, Zimmerman will not go on the disabled list. He will be re-examined once he returns from the All-Star break on Thursday; the team is planning a practice that evening at Nationals Park.
"Given his history, yeah, that's a big relief for us," manager Matt Williams said. "The way he reacted last night, we didn't think there was an issue with the elbow or the shoulder. But we had to make sure.
"I think with the All-Star break, we can look at how he comes out of that and see. If in fact we've got to do something like [put him on the DL] after the break, we can do that. We can backdate it. But he was feeling pretty good today. So he'll go on his normal throwing program and see how he feels. And then once we determine that, we can determine whether it's something we need to look at after the break or not."
Zimmermann will not attend the All-Star Game. Instead, he will go home to Auburndale, Wis., and rest the arm during the break.
"I didn't think it was anything … serious," Zimmermann said. "The MRI came back, and it looked pretty good. A little inflammation. I'm going to give it some rest for a few days, go home, come back and start throwing on Thursday again."
Zimmermann left Friday night's game against the Phillies in the bottom of the fourth inning with a biceps cramp. It marks the second straight year in which Zimmermann was named to the All-Star team but was then sidelined with an injury.
Williams texted Cardinals manager Mike Matheny, who will manage the National League All-Star team, about the injury but did not discuss who should replace Zimmermann. By Saturday afternoon, Major League Baseball announced that Marlins right-hander Henderson Alvarez would do so. Williams did not seem to have a problem with the decision.
"He is still our representative. There is nothing you can do about guys being injured or not being able to participate," Williams said before Saturday night's 5-3 victory against the Phillies. "We had a couple of guys in the mix. Anthony [Rendon] was in there for a while [with the All-Star Final Vote]. Jordan is our representative. If all things were equal, he would be our only guy anyway.
"Disappointed? No. We have a couple of games to win [against the Phillies]. Let's see if we can do that until we get to the All-Star break."
Zimmermann is the ace of the Nationals pitching staff, going 6-5 with a 3.03 ERA in 19 starts. His teammates were relieved that the biceps injury was not serious.
"It's nice to have him back there with the break built in and not worry about the DL," Ryan Zimmerman said. "He is going to be a big part of us during the second half. Hopefully, when we get back from the All-Star break, everything will be good."
But the Nationals need more than Zimmermann to win the tight battle with the Braves in National League East, fellow rotation member Stephen Strasburg said.
"It's going to take everybody, not just the pitchers, but every guy on the 25-man roster to get this done," Strasburg said. "Recharge your batteries after tomorrow and [get] ready to play some fun baseball in the second half."
Bill Ladson is a reporter for MLB.com and writes an MLBlog, All Nats All the time. He also could be found on Twitter @WashingNats. This story was not subject to the approval of Major League Baseball or its clubs.