Call stands as Span safe on close, key play at first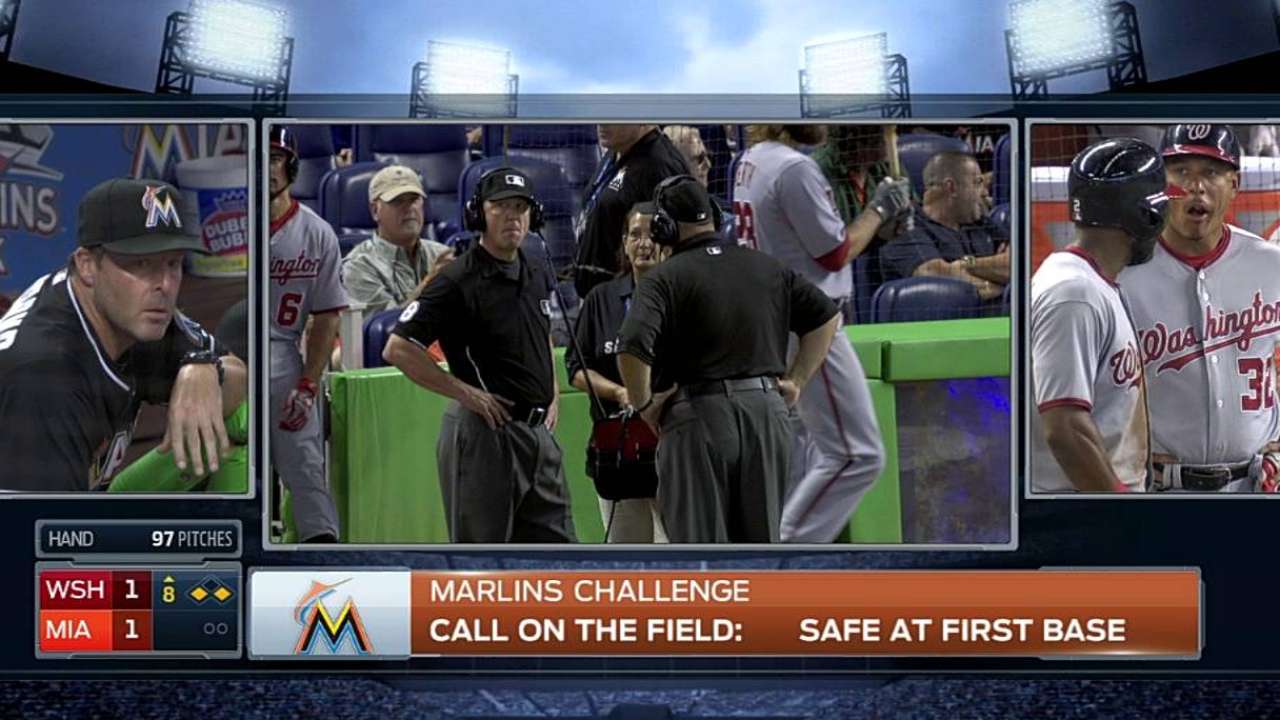 MIAMI -- The speed of Denard Span enabled the Nationals to escape a close replay challenge in the decisive eighth inning of their 4-3 win over the Marlins on Wednesday at Marlins Park.
What turned into the play of the game, Span was ruled safe at first, and it opened the door for a three-run inning that put Washington in front, 4-1. Miami rallied for two runs in the ninth inning and had runners on first and second when the game ended.
Miami disputed a safe call that resulted in a bunt single by Span. Without conclusive evidence for an overturn, umpires ruled that the play stands after a review of three minutes and 14 seconds.
After the game, Marlins manager Mike Redmond wasn't convinced replay got the call right.
"I thought he was still out," Redmond said. "The views I had, I thought he was out. Definitely, at that point in the game, it was a play worth replaying. That play was huge."
Scott Hairston led off the inning with a pinch-hit double off Marlins starter Brad Hand. With the game even at 1, Span pushed a bunt down the third-base line. The ball was fielded cleanly by third baseman Casey McGehee.
Second baseman Jordany Valdespin covered first base, and he received McGehee's throw as Span was touching the base.
"It looked to me like [Valdespin] caught the ball before he touched the base," Redmond said. "Those ones like that are tough."
The bang-bang play was ruled safe by first-base umpire Jeff Kellogg.
Redmond challenged, and various replay angles showed the play was too close to call.
As close as it was, McGehee wasn't sure there was enough evidence to overturn the play.
"I couldn't tell. Even on the replay, I couldn't tell," McGehee said. "I had a feeling they were going to call him safe. It was so close.
"I think that was one of those calls, whatever they called on the field was going to be what it was. It was too close to call on the field."
It was a rare challenge that didn't go Miami's way. The club is now 16-for-21 in reviews.
"I probably could have gotten rid of it a little quicker," McGehee said. "In that situation you've got to make a good throw. I probably should have gotten rid of it quicker than I did."
Joe Frisaro is a reporter for MLB.com. He writes a blog, called The Fish Pond. Follow him on Twitter @JoeFrisaro. This story was not subject to the approval of Major League Baseball or its clubs.