Nationals recall Souza from Triple-A Syracuse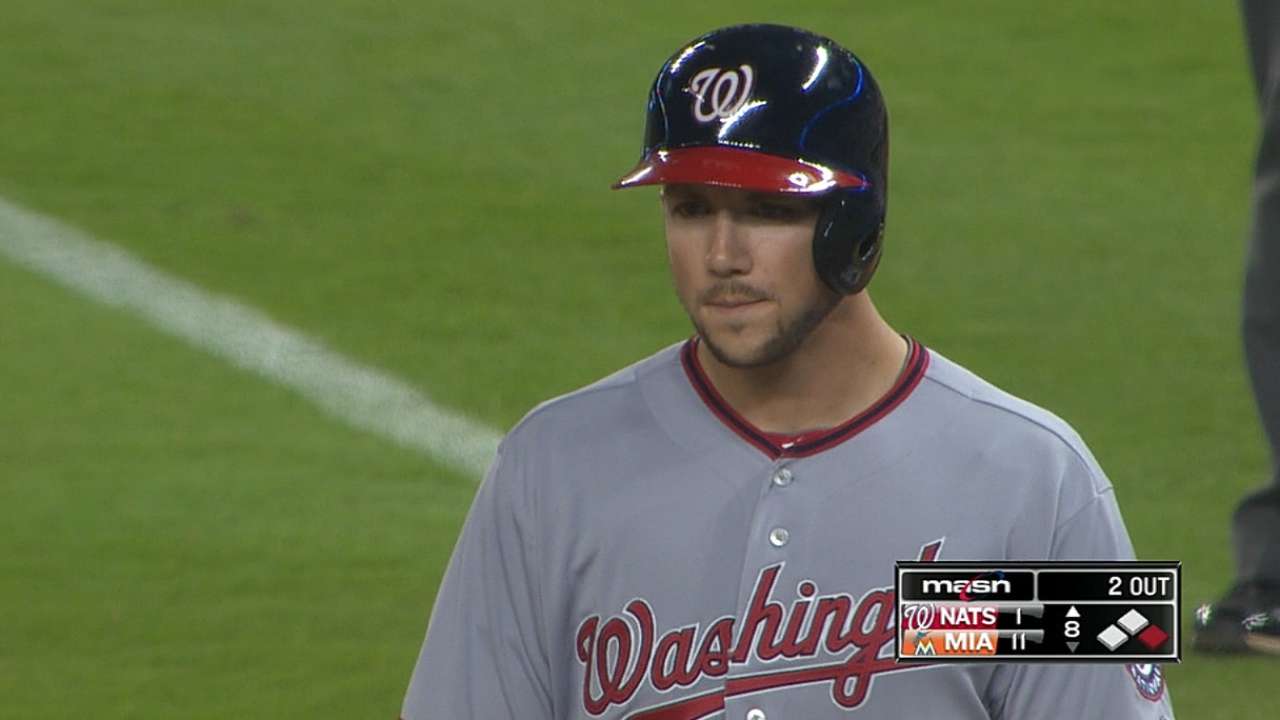 WASHINGTON -- In his first at-bat on Sunday for Triple-A Syracuse in Scranton, outfielder Steven Souza Jr. ripped a single to right field. After back-to-back strikeouts ended the frame, the Nationals' No. 5 prospect returned to the dugout, where Chiefs coaches told him he was being removed from the contest for not running hard enough to first base.
Souza said he immediately knew something was up, especially considering teammates started giving him congratulatory hugs. But it was only after a two-hour bus ride back to Syracuse that Souza got the official word: He would be returning to Washington on Monday for his third stint in the Major Leagues.
"Two hours on the bus, my family's texting me. I just had to tell them, 'I don't know what's going on right now,'" Souza said. "But they told me when I got back, and I was excited."
The Nationals' decision to call up Souza on Monday occurred after Nate McLouth was placed on the 15-day disabled list because of right shoulder inflammation. But that doesn't mean Souza didn't deserve the promotion.
In 91 games for Syracuse in 2014, Souza hit .354 with a 1.036 OPS, 18 home runs, 70 RBIs and 23 doubles. Even with his sensational performance, though, Souza only saw action in eight games for the Nationals, all of which came during two stretches in April.
"I don't think anybody wants to stay in the Minor Leagues forever, but you've got to look at the situation. And, look, we've got three, four, five great outfielders up here." Souza said. "I don't think you have any control over that. And that's what I try to focus on -- control what I can control. And I can control having quality ABs, and that's what I did."
Souza's bat will bolster a Nationals bench that has struggled this season. Manager Matt Williams said the right-handed slugger would "certainly" see time as a pinch-hitter, while also providing days off for outfielders Denard Span and Jayson Werth, who've played in 101 and 107 of a possible 110 games, respectively, this season.
"When we drafted him, we saw him as a big-time tool package," general manager Mike Rizzo said of Souza. "He finally has started to take off and play the way we thought he would."
Williams said his biggest concern regarding Souza is making sure the outfielder doesn't lose the timing and rhythm that resulted in his impressive numbers in Triple-A this season. But with three starting outfielders in Span, Werth and Bryce Harper, Williams said getting Souza consistent starts is not a realistic possibility.
"I would like to, but you never know. You don't know what's going to happen in tonight's game or tomorrow or beyond," Williams said. "He's had an incredible year, and we don't want him to lose that feel. But then again, we've talked a million times about [how] we've got guys who play every day. And they're pretty good players. So you don't want to mess with that either."
Daniel Popper is an associate reporter for MLB.com. This story was not subject to the approval of Major League Baseball or its clubs.