Span showcases his defensive skills against O's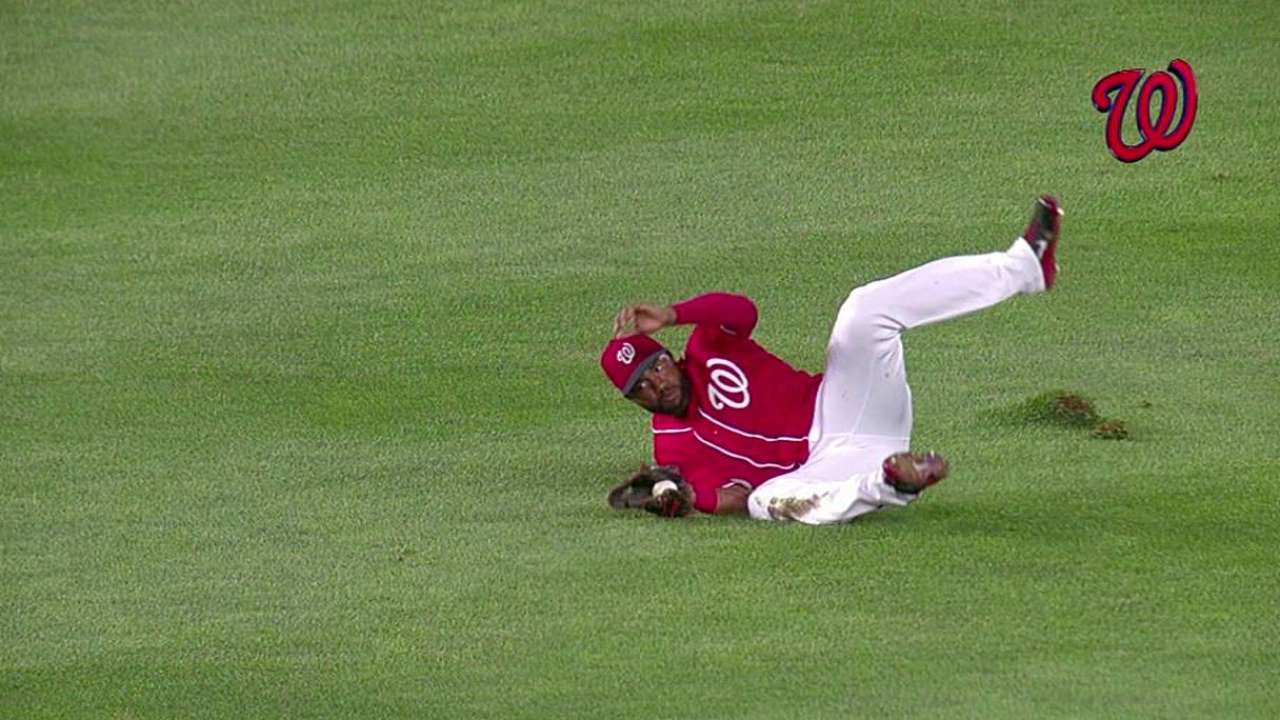 WASHINGTON -- The Nationals and Orioles were tied at 2 in the top of the sixth inning Monday night at Nationals Park when Washington right-hander Tanner Roark delivered a 1-2 breaking ball on the outside corner to Nelson Cruz.
Cruz reached for the pitch and sent a low line drive toward center field. Denard Span was playing Cruz deep to respect his power, but he was able to get a good jump as soon as he saw Roark fool the right-handed slugger with the offspeed pitch.
Span charged, slid and made the catch, just getting his glove in between the ball and the outfield grass. But as Span went to slide, his right knee smashed into the turf, sending him tumbling forward. All that was left to mark the spectacular catch was a divot several inches deep in the ground.
"It seemed a little soft out there," Span said. "It kind of scared me a little bit because I didn't think I slid that violently."
To aid his teammate, who was a slightly shaken up after the play, Jayson Werth trotted over from right field and fixed the torn-up grass, as if he were a golfer maintaining etiquette on the course. Meanwhile, Roark was animated on the mound, slapping his hand to his glove and pointing to Span in the outfield to show his appreciation.
"He can get to any ball from left-center to right-center because he's amazing out there," Roark said. "It was a heck of a play, kept us in the game."
That wasn't enough for Roark, though. After the right-hander struck out Chris Davis to end the inning, he waited in front of the dugout to give Span a huge high five as the sold-out crowd in Washington rose to its feet to provide the center fielder with a well-deserved standing ovation.
"Whenever a pitcher does that, it's just a special feeling," said Span, who went 2-for-4 to extend his on-base streak to 30 games.
Span made another important defensive play in what was eventually a 7-3 Nationals loss. With two runners on and one out in the top of the second inning, Span caught a sharp liner off the bat of Ryan Flaherty before quickly firing to second base to double up Davis. It ended the frame and preserved what was then a scoreless tie.
"We've been watching him do that for a couple years now," Ian Desmond said. "He's the best out there."
After the game, Span said his catch in the sixth inning left him sore, largely because of the impact to his right leg during the jarring collision with the turf. But he was adamant it's not serious.
"Nothing the cold tub hopefully can't fix," Span said.
Daniel Popper is an associate reporter for MLB.com. This story was not subject to the approval of Major League Baseball or its clubs.