MLB.com Columnist
Bill Ladson
Williams: Aggressive Harper still learning, maturing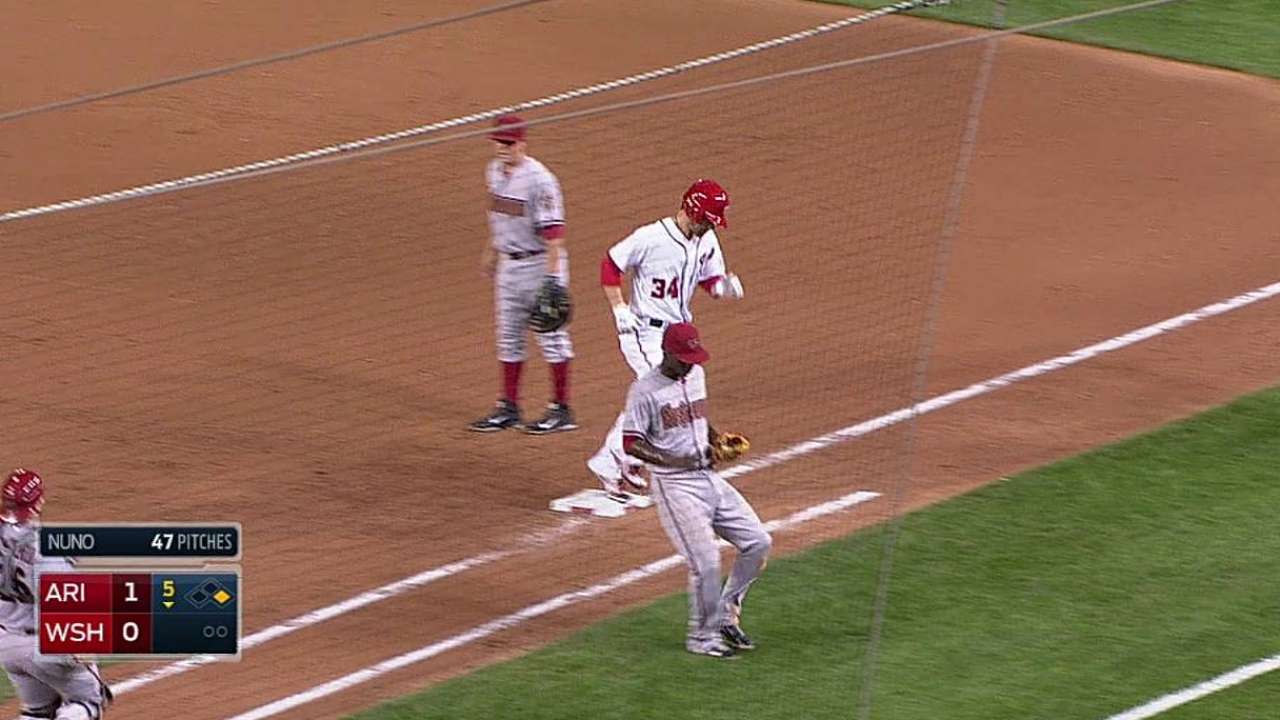 WASHINGTON -- Bryce Harper led off the bottom of the fifth inning of the Nationals' 5-4 win over the D-backs Monday night with a sharp line-drive single to right field. He sprinted out of the box and took an ambitious turn around first, stopping about 15 feet away from the base.
In the meantime, Arizona right fielder David Peralta had charged and fielded the hit cleanly. Seeing Harper that far off the bag, Peralta pump-faked a throw to first, with Harper breaking toward second as Peralta then fired to shortstop Didi Gregorious at second. Gregorius then easily ran down Harper and tagged him for the first out of the inning.
Harper's decision was particularly curious, because at no point during the play did it appear as though the ball would get past Peralta.
"If it's a ball down in the corner, and he's trying to stretch a single to a double, that's one thing. But it was a little overaggressive," manager Matt Williams said Tuesday. "He got out there and tried to make a play happen that didn't need to be made."
Monday night was not the first time Harper made an overly aggressive baserunning error this season, though. On July 26 against the Reds in Cincinnati, Harper was gunned down twice on the basepaths in a 1-0 loss. The more questionable of the two plays came when Harper tried to go first-to-third on an infield single from Wilson Ramos but ended up getting tagged out in a rundown after first baseman Todd Frazier threw accurately across the diamond.
Granted, Harper's style of play is defined by his aggressiveness in all facets of the game: on the basepaths, in the field and at the plate. And Williams and the rest of the coaching staff, including first-base coach Tony Tarasco, don't want to take that away from the 21-year-old outfielder.
"We have to try to understand that he's had a limited amount of baseball up at the Major League level. And although he plays at the level that is expected of him up here, there are still some things that he's learning," Tarasco said. "On occasion, there are mistakes. What I like most about it is he's not afraid to make mistakes. Guys who are afraid to make mistakes are guys who play timid and don't play aggressive. So I'd rather have him in that position than in a more timid spot."
Still, Williams said he would like to see Harper take more calculated risks.
"I never have a problem with guys trying to be aggressive. But I also want Bryce to understand the situation of the game," Williams said. "It's part of his learning curve and part of the maturation process that he'll go through."
Daniel Popper is an associate reporter for MLB.com. This story was not subject to the approval of Major League Baseball or its clubs.