MLB.com Columnist
Bill Ladson
Williams trying to gets Nats' regulars some rest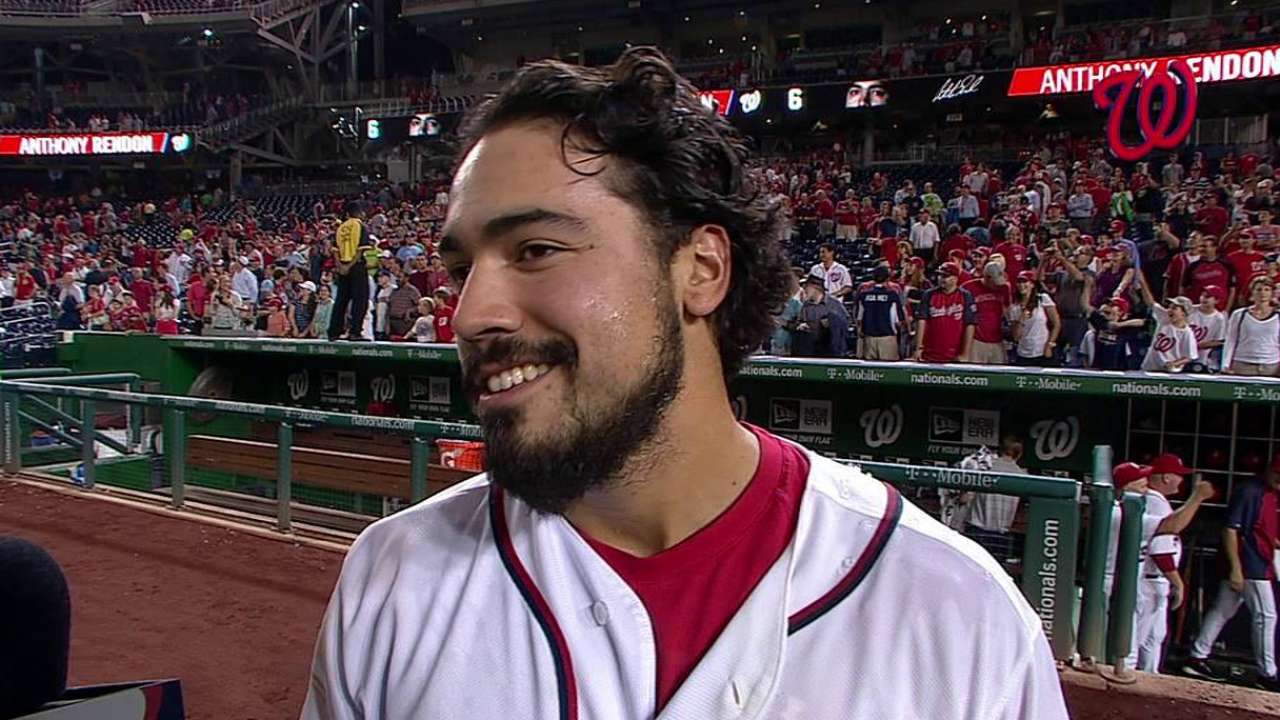 WASHINGTON -- Infielder Anthony Rendon was out of the Nationals' starting lineup Wednesday against the D-backs, sitting for the first time since June 9, as utility man Kevin Frandsen got the nod at third base. Rendon had made 62 straight starts for the Nationals before Wednesday, and manager Matt Williams said he made the decision to provide the second-year man with a day of rest.
"He needs a day," Williams said of Rendon, who entered Wednesday hitting .276 on the season with 16 homers and 67 RBIs. "He's played a lot of games. He's been on base a lot, of course, because he's hit well. Played hard defensively, too. So we'll give him today."
That was the plan, anyway. Rendon appeared as a pinch-hitter in the ninth, roping an RBI single to left field to give the Nats a 3-2 walk-off win over the D-backs, Washington's ninth straight victory.
Rendon is on pace to play in a professional career-high 157 games this season after appearing in 134 games (98 big league games and 36 Minor League games) in 2013, his second year in the Nats' organization.
He suffered ankle injuries while playing collegiately at Rice, and also professionally with Class A Potomac in 2012. His Draft stock in 2011 was hurt significantly because of lingering problems in his shoulder.
Now, it seems that Rendon has put those issues behind him.
"You're in unchartered waters," Williams said of the amount Rendon has played this season. "You don't have experience in that regard, when you get to that point. But I think he's held up really well. His legs have been great. He's stealing bases and hitting doubles and shown good power, all of those things that we talk about every day. But physically, I think he's held up pretty well. We have to be mindful of it, though. Make sure that we give him a day when we can."
Rendon's scheduled day off was part of an ongoing push from Williams to provide his starters with some much-needed rest, especially Ian Desmond, who's sat just two games all season and often refuses to take days off, according to Williams.
"At some point, I'm going to have to force him," Williams said.
Williams said he also plans on finding days off for left fielder Bryce Harper, center fielder Denard Span and first baseman Adam LaRoche over the next few weeks, as the Nationals are scheduled for games on every day except three until the end of the regular season on Sept. 28.
"That's the mindset right now, to try to intersperse those guys on occasion, where we can just give them a day to rest and get some work done with the staff and get recharged a little bit," Williams said. "The off-days are pretty sparse from here on out, so we've just got to make sure that we try to get guys days when we can."
Daniel Popper is an associate reporter for MLB.com. This story was not subject to the approval of Major League Baseball or its clubs.