Zimmerman resumes baseball activities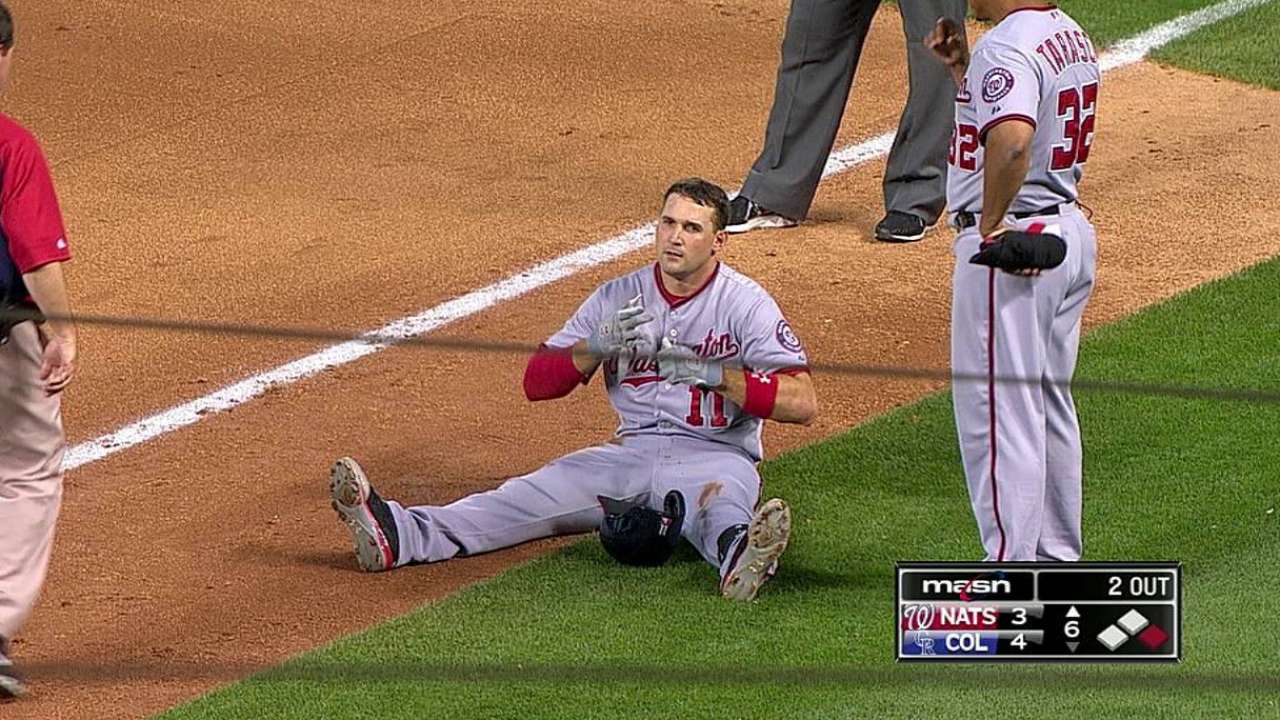 WASHINGTON -- Nationals veteran Ryan Zimmerman returned to baseball-related activities on Thursday afternoon when he threw for the first time since sustaining his injury (Grade 3 right hamstring strain) less than a month ago at Coors Field in Denver.
Zimmerman played catch with assistant athletic trainer Steve Gober from around 60 feet for no more than 10 minutes. The right-handed slugger reported feeling good after the session.
"Just trying to wake the arm up a little bit," Zimmerman said.
Manager Matt Williams considered it important progress for Zimmerman, who's missed more than 70 games this season between his hamstring and the fractured right thumb he sustained in early April.
"You have to use that muscle to throw. It's part of the deal," Williams said. "That's the early stages of it, but it's a step for sure."
There remains no timetable for Zimmerman's return, but Williams did discuss what the rest of the third baseman's rehab process might entail. The manager said Zimmerman will likely start throwing on an every-other-day basis, as long as he feels good. With each session, Zimmerman will throw from farther distances while adding "dynamic components," such as crow hops and other drills involving more movement in his lower half.
"It's one thing to do hamstring exercises," Williams said. "But to be sport-specific is key, too."
Moving forward, Williams said there are number of benchmarks that are crucial as far Zimmerman's return, which will likely come in mid-September.
"One is taking batting practice, because that's not quite as difficult as running," Williams said. "The second one would be being able to run full speed. And then we have to get him on the bases, and that's probably the biggest test, because he has to react and turn and create different angles and things to turn the base. So that's generally, with any pulled muscle, especially with legs, the final step he would have to go through before he would go play."
Daniel Popper is an associate reporter for MLB.com. Bill Ladson is a reporter for MLB.com and writes an MLBlog, All Nats All the time. He also could be found on Twitter @WashingNats. This story was not subject to the approval of Major League Baseball or its clubs.