'Meaningful' stolen base gives Span career high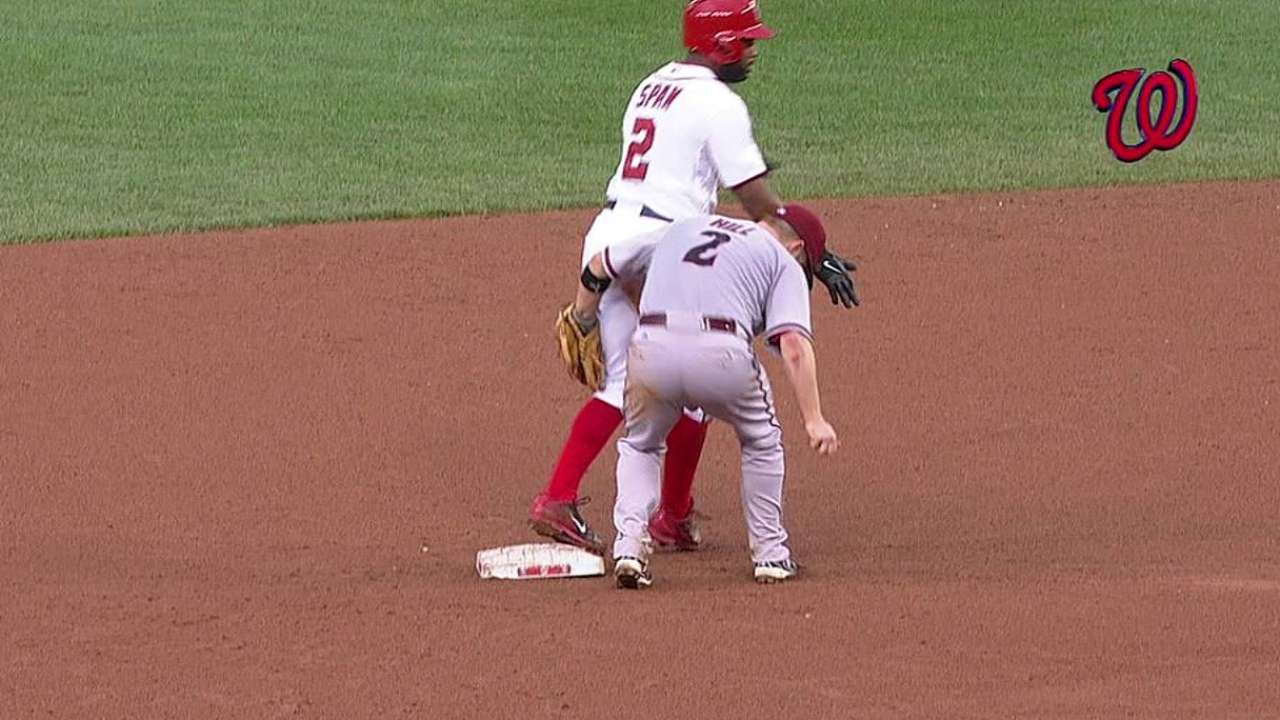 WASHINGTON -- With one out in the bottom of the ninth inning Thursday against the D-backs, Nationals leadoff man Denard Span poked a softly hit single to center field. He represented the potential winning run in a scoreless game.
After Span's hit, Arizona manger Kirk Gibson opted to pull reliever Oliver Perez in favor of right-hander Evan Marshall. And during the ensuing warmup pitches, Span listened intently to first-base coach Tony Tarasco, who provided the speedy center fielder with Marshall's times to home plate for both his slidestep and regular delivery.
Then it became Span's decision.
"He left it in my hands," Span said. "He told me, 'If you think you can get it, go get it.'"
Three pitches into the next at-bat, Span took off for second. Marshall delivered an 84-mph slider to Anthony Rendon, which gave Span just enough time to beat Tuffy Gosewisch's throw and slide safely into second for his 27th stolen base, a new single-season high for the 30-year-old.
Two pitches later, Rendon hit a ground ball that forced Jordan Pacheco into a throwing error. The ball skipped past first baseman Mark Trumbo and out of play, scoring Span to propel the Nationals their 10th straight victory and fifth walk-off in six games.
"That's what guys like me -- speed guys -- we dream of, getting stolen bases like that in the ninth inning and helping your team win," Span said. "That was probably my first meaningful bag in my career right there, where I actually stole and put us in a position to win."
After the game, Span said the key to his stolen base was finding his "alter ego." After going over Marshall's scouting report with Tarasco, Span meandered into foul territory near the Nationals' dugout for a moment of self-reflection.
"I just had to walk off," Span said, "hype myself up for a second."
Span said an old friend used to characterize his two differing personalities.
"Denard is the guy that is passive, the guy that is afraid to make a mistake," Span said. "'Span is the guy that is a playmaker."
When Marshall had concluded his warmup pitches, Span returned to first base. He was no longer Denard. He was Span.
"I kind of just had to put on my alter ego and talk myself into it and get in that zone," Span said. "I was just ready and I was able to get a good jump."
With Thursday's steal, Span inched ever closer to his goal of 30 stolen bases for the season -- a significant achievement for any leadoff man. In his 12 years as professional, both in the Majors and Minor Leagues, Span never stole more 26 bases, a total he compiled in 2010 with the Twins.
He surpassed that mark with more than a month left in the regular season on Thursday.
"I give all the credit to this organization for just believing in me," Span said. "Whenever I make a mistake, they're always telling me, 'Just keep going. Keep being aggressive.' And this is my first time saying this, but in 10 years I never had that in Minnesota. So it's just a good feeling, man, just to know that they believe in me."
Daniel Popper is an associate reporter for MLB.com. Bill Ladson is a reporter for MLB.com and writes an MLBlog, All Nats All the time. He also could be found on Twitter @WashingNats. This story was not subject to the approval of Major League Baseball or its clubs.