Nats call up Schierholtz, option Taylor to Triple-A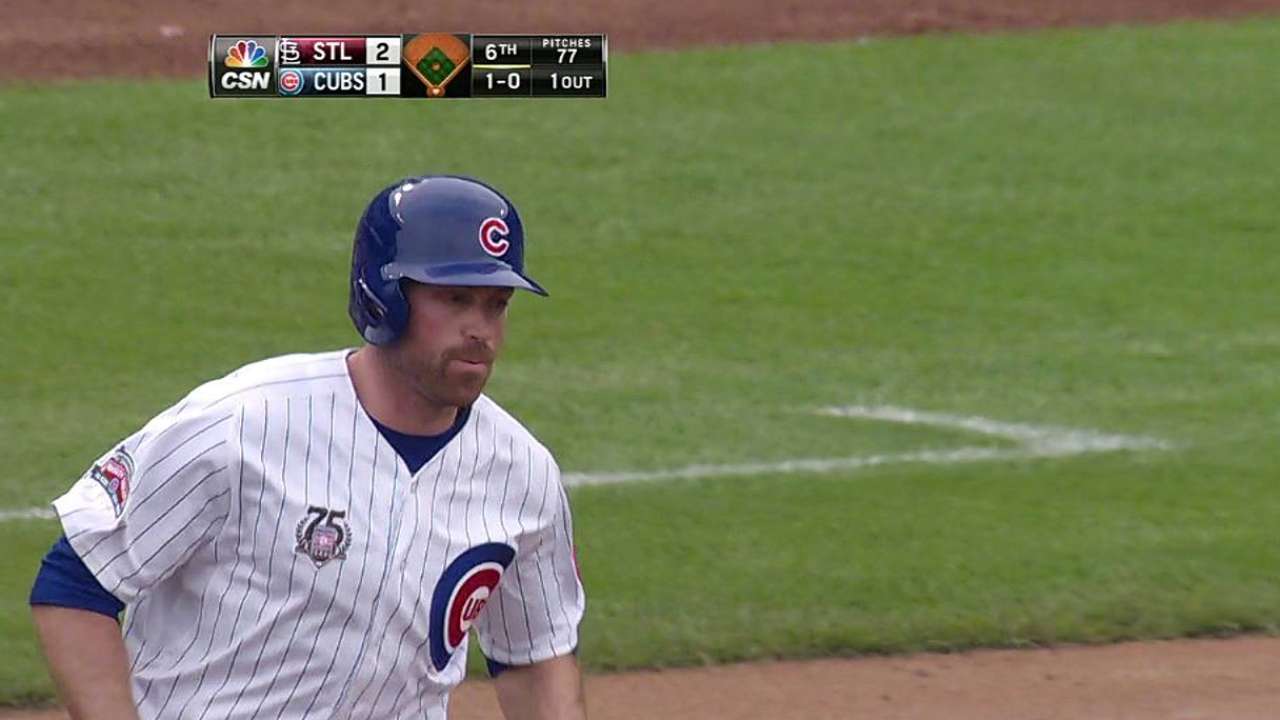 WASHINGTON -- The Nationals selected the contract of outfielder Nate Schierholtz on Saturday and optioned prospect Michael Taylor to Triple-A Syracuse.
Schierholtz signed a Minor League contract with the organization Monday before arriving in Syracuse on Tuesday. The left-handed slugger went 3-for-19 with a home run and four RBIs in four games for the Chiefs.
Schierholtz will help fill the hole in the Nationals' bench created when fellow lefty Nate McLouth underwent season-ending shoulder surgery earlier this week.
"He's got some ABs under his belt," manager Matt Williams said of Schierholtz. "We've been so right-handed dominant off the bench, it gives us an opportunity to have a lefty later in the game."
Taylor received his first shot in the Majors after injuries to McLouth and Steven Souza Jr. The outfielder played in just four games for Triple-A Syracuse before the Nationals called him up. Nonetheless, he had a sensational debut, going 2-for-4 with a home run and two RBIs on Aug. 12 at the Mets.
But Taylor's inexperience became apparent over the next 10 days, as he delivered just one hit in 14 at-bats.
"Michael will go back and play a little bit," Williams said. "We'll see how that goes in September."
Schierholtz had a career-best season with the Cubs in 2013, when he hit .251 with 21 home runs and 68 RBIs, but he tapered off in Chicago this year. In 99 games, Schierholtz compiled a .192 average with six home runs in 313 at-bats before the Cubs designated him for assignment Aug. 6.
"I had a couple weeks back at home, which isn't ideal to any player," Schierholtz said. "But I feel like, at this point in the season, you get back into the swing of things pretty quick."
As a World Series champion with the Giants in 2010, Schierholtz flourished in a bench role, largely because he was able to "pick the brains" of seasoned veterans. The outfielder said his success as a pinch-hitter also stems from the win-at-all-costs mentality he takes into those at-bats.
"When that's your job, it's kind of like going to war with a pitcher," Schierholtz said. "You only get one shot."
Despite a limited number of games at Triple-A this past week, Schierholtz said he feels ready to start contributing at the big league level.
And it doesn't hurt that he's joining a team that just wrapped up a franchise-record-tying 10-game winning streak.
"For me, it's just an exciting opportunity to get back to a winning atmosphere. And that's what it's all about," Schierholtz said. "I'm just excited for a fresh start here. I've kind of put the first half behind me and I'm ready to start in a winning environment."
Bill Ladson is a reporter for MLB.com and writes an MLBlog, All Nats All the Time. He also can be found on Twitter @WashingNats. Daniel Popper is an associate reporter for MLB.com. He also can be found on Twitter @danielrpopper. This story was not subject to the approval of Major League Baseball or its clubs.